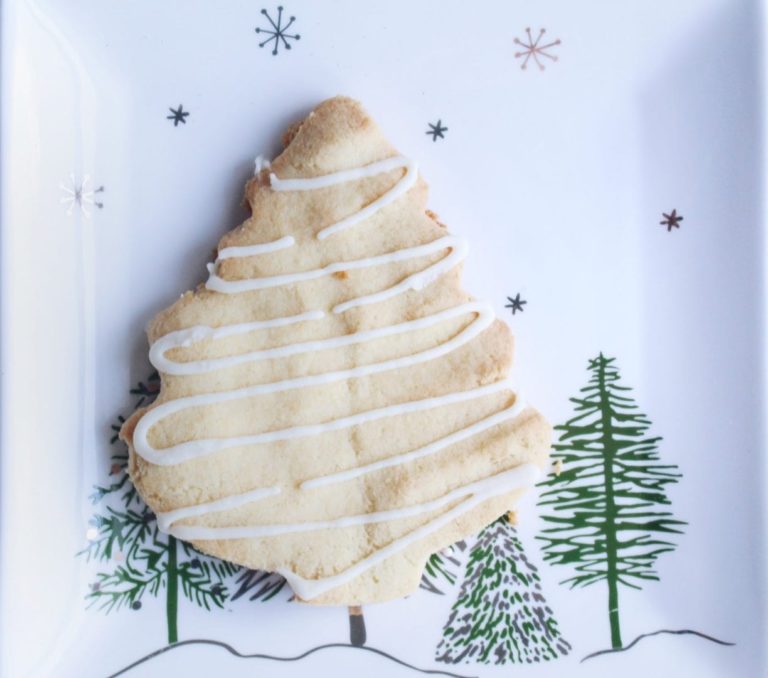 Protein Sugar Cookies
---
Servings: 9 medium cookies
Prep Time: 40 minutes
Cook Time: 12-15 minutes
---
Ingredients:
2 cups blanched almond flour
1 cup unsalted butter (8 tablespoons)
2 tablespoons coconut flour
1/3 cup granulated stevia
1 egg
1 egg yolk
1 scoop vanilla protein
1 teaspoon vanilla extract
1 teaspoon baking powder
Pinch of salt
---
For the Frosting (optional)
3 tablespoons coconut butter
1 tablespoon vanilla protein powder
---
Instructions:
1. In a medium bowl, add the almond flour, coconut flour, vanilla protein, baking powder, and salt. Whisk and leave aside.
2. In a separate bowl with an electric mixer, whisk the butter and stevia until creamy.
3. Add the egg, egg yolk, and vanilla extract to the creamy batter and whisk until incorporated.
4. Slowly add the dry ingredients and continue mixing with the electric mixer until you have a smooth and firm dough.
5. Wrap the dough with plastic wrap and leave it in the fridge for 30 min.
6. Preheat the oven to 325 degrees F and line a baking sheet with parchment paper.
7. Take the dough out when ready,  roll out to 1/4" thick. If the dough has warmed, place the cookie sheet in the fridge for another 10 minutes.
8. Cut in the desired shape and place cookies at least 1" apart on the parchment paper. Bake until the cookies are beginning to brown around the edges.
9. Take cookies out and let them sit on the baking sheet for another 5 minutes before taking them to the cooling rack.
10. While the cookies are cooling off, in a small container mix together the coconut butter and protein powder, add to a piping bag a decorate as desired.
11. Enjoy!
Note: The dough is very sticky. Consider oiling hands while rolling and cutting the cookies.
---
Calories: 272
Fat: 24.4 g
Carbs: 5 g
Fiber: 3.3 g
Protein: 9.3 g