Print Options:
Homemade Sugar-Free Keto Ketchup
Yields
12 Servings
Prep Time5 mins
Cook Time30 mins
Total Time35 mins
Most store-bought kinds of ketchup are loaded with sugar, which makes them strictly prohibited on the ketogenic diet. But, nothing goes better with a bunless burger or side of low-carb rutabaga fries than the tomato-deliciousness of ketchup. So, does that mean you can't enjoy your favorite condiment ever again? No! This keto ketchup recipe is packed with all of the flavor of store-bought ketchup, but with non of the added sugar!
Make sure to be selective when picking up the ingredients for this recipe! If you would like it to be the lowest carb count possible, make sure to opt for a tomato paste with no added sugar and fewer carbs (typically around 4-5g per serving). Also, if you do not have powdered erythritol, you can make it by placing granular erythritol in a blender and blending until a powdered consistency is achieved. Using a powdered sweetener over granular will really help with the texture of this keto ketchup.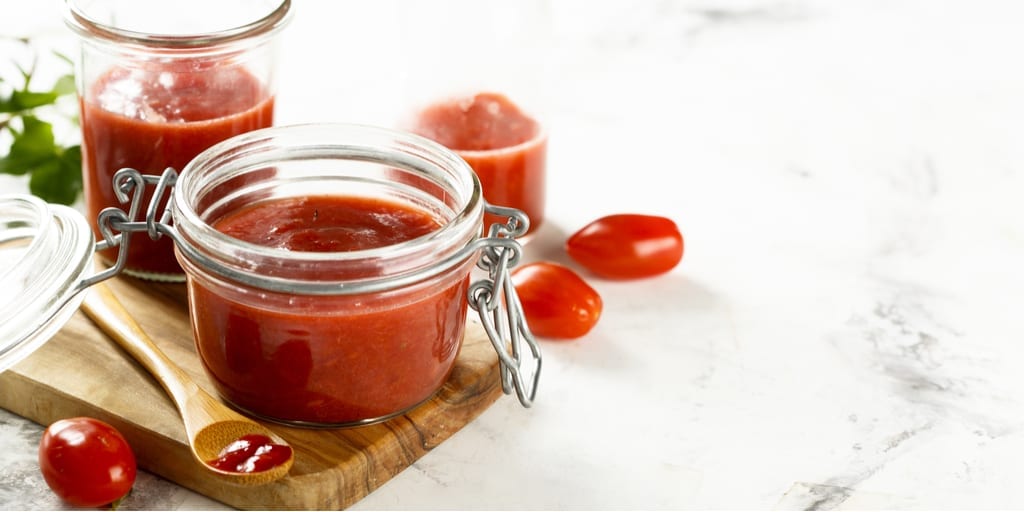 Directions
1
Blend all of the ingredients in a blender until smooth.
3
Store your homemade keto ketchup in an air-tight container for up to 2 weeks in the fridge.
Nutrition Facts
Serving Size 1 tbsp
Servings 12
---
Amount Per Serving

% Daily Value *

Total Fat 0g

Total Carbohydrate 2.3g

1

%

Net Carbohydrate 1.4g

1

%

Dietary Fiber 0.9g

4

%

Protein 0.5g

1

%
---
* Percent Daily Values are based on a 2,000 calorie diet. Your daily value may be higher or lower depending on your calorie needs.