Print Options:
Keto Cinnamon Rolls
Yields
6 Servings
Prep Time15 mins
Cook Time20 mins
Total Time35 mins
There is just something about a gooey cinnamon roll that makes any evening special. Add a glass of hot cocoa made with a keto-friendly sweetener and you have a great treat for a holiday — or just a cozy night in. Treats like cinnamon rolls are usually associated with cheat days, but these sugar-free cinnamon rolls are ketosis-friendly.
Making these keto cinnamon rolls follows a similar process as making regular cinnamon rolls, though with the gluten-free flour there is no need to chill the dough before baking. Many low carb cinnamon roll recipes use almond flour or even crushed macadamia nuts in the dough, but we find coconut flour creates the best consistency and gentle sweetness. You can substitute your favorite low carb flour of choice in the dough, but be aware that not all substitute flours are equally keto-friendly. The dough should be a touch sweet, but don't overdo it on the Stevia (or erythritol sweetener, if you're substituting) as most of the sweetness will come from the icing.
These keto cinnamon rolls are sugar-free, low-carb, gluten-free, and absolutely delicious. They make a great breakfast piece or warm after-dinner dessert. And with a total time of 35 minutes, the wholesome keto rolls leave you free to enjoy your morning or night — without interrupting your clean eating.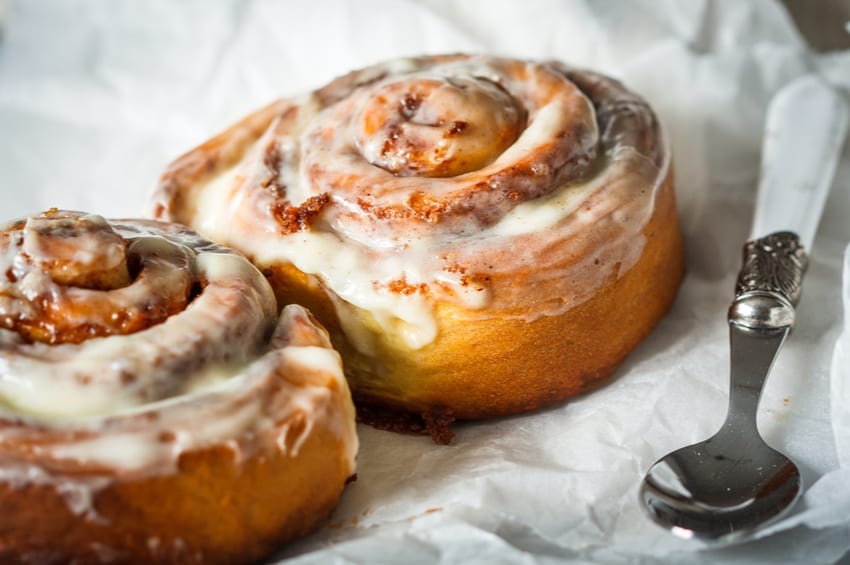 Ingredients
Dough
Cinnamon Filling
Cream Cheese Frosting
Directions
1
Preheat the oven to 375°F degrees and line a baking sheet with parchment paper.
2
Combine the shredded mozzarella and cream cheese in a microwave safe bowl and melt for 2 minutes.
3
Add remaining dough ingredients and knead until well incorporated.
4
Place the dough onto the baking sheet and top with another piece of parchment paper.
5
Roll dough out until about 1/2" thick.
6
Melt the butter and mix in the stevia and cinnamon.
7
Spread the mixture onto dough.
8
Cut dough into 6 equal pieces and roll up and twist around into a cinnamon roll shape.
9
Bake until golden brown (approximately 15-18 minutes).
10
Blend all frosting ingredients until smooth.
11
Remove rolls from oven and spread frosting on top.
12
Enjoy your delicious keto cinnamon rolls alone or with a nice glass of heavy cream or almond milk on the side.
Nutrition Facts
Serving Size 1 roll
Servings 6
---
Amount Per Serving

% Daily Value *

Total Fat 38.6g

60

%

Total Carbohydrate 10.9g

4

%

Net Carbohydrate 5.1g

2

%

Dietary Fiber 5.8g

24

%

Protein 15.2g

31

%
---
* Percent Daily Values are based on a 2,000 calorie diet. Your daily value may be higher or lower depending on your calorie needs.