Print Options:
Keto Cobb Salad (Family Size)
Yields
4 Servings
Prep Time10 mins
Cook Time10 mins
Total Time20 mins
The cobb salad is a staple of the keto diet because it is packed full of healthy fats and protein, without all of the carbs. This simple keto cobb salad recipe combines egg, bacon, cheese, chicken, lettuce, and avocado for a creamy and savory salad experience. You can also try adding in the tomatoes and red onion to this recipe, just be aware that it will add extra carbs!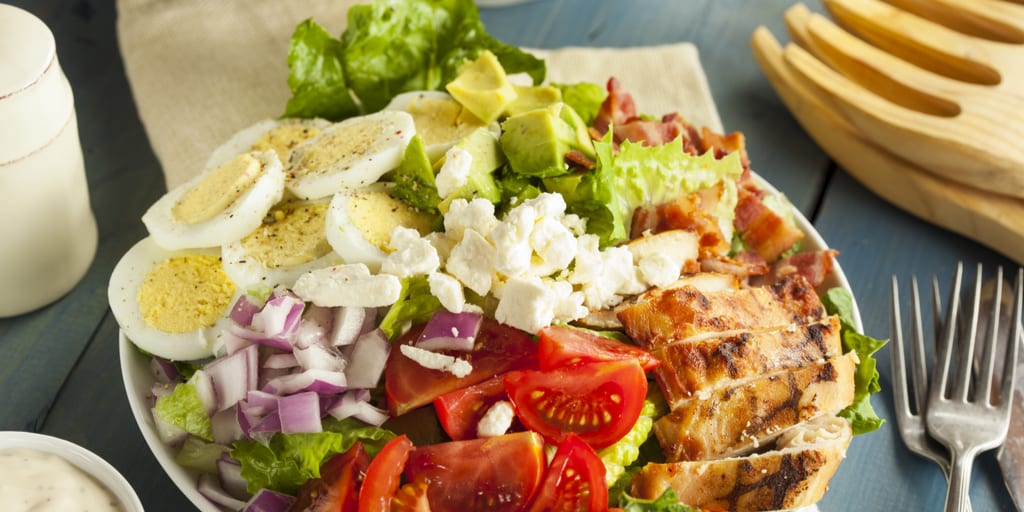 Ingredients
16
oz
rotisserie chicken
(can make chicken breast instead or buy pre-packed chicken)
4
oz
blue cheese crumbles
optional: a handful of cherry tomatoes
optional: a small red onion, diced
optional: low-carb ranch or blue cheese dressing
Directions
Boiled Eggs
1
Boil the eggs by bringing a small pot of water to a boil over high heat.
2
Add in the 4 eggs and boil for 8-10 minutes.
3
Remove the boiled eggs from the water and run under cold water.
4
Chill the eggs in ice water.
5
Peel the shell from the eggs and chop in half.
Bacon
6
Cook the bacon by heating a large skillet over medium-high heat.
7
Add the bacon strips and cook until crispy (around 3-4 minutes on each side)
Assembly
8
Chop the head of romaine lettuce and place it into a large salad bowl.
9
Cut slices of chicken from the rotisserie chicken (or use a fork to shred the chicken) and add to the salad.
10
Chop the bacon into small pieces and add to the keto cobb salad.
11
Add the blue cheese crumbles and egg halves.
12
Cut the avocado in half and then cut dice into small pieces. Add to the cobb salad.
13
Finish your keto cobb salad by adding your favorite keto-friendly dressing on top.
Nutrition Facts
Servings 4
---
Amount Per Serving

% Daily Value *

Total Fat 29.6g

46

%

Total Carbohydrate 7.2g

3

%

Net Carbohydrate 2.3g

1

%

Dietary Fiber 4.9g

20

%

Protein 50.8g

102

%
---
* Percent Daily Values are based on a 2,000 calorie diet. Your daily value may be higher or lower depending on your calorie needs.