Print Options:
Keto Crabcakes & Dill Remoulade
Yields
4 Servings
Prep Time10 mins
Cook Time10 mins
Total Time20 mins
This recipe is really special to me… it's inspired by the crabcakes I made for Gordon Ramsay that earned me a spot in the Top 20 on MasterChef Season 10!
The beautiful thing about this recipe, is just how simple and easy it is! The entire recipe is 5 (FIVE!) ingredients, all of which you can find at nearly any grocery store. I've also included the recipe for the simple, but delicious Dill Remoulade sauce to go with it — and you should make the sauce too! Its that good…
Oh, and did I mention the crabcakes WITH the sauce is almost ZERO CARBS? See macros below!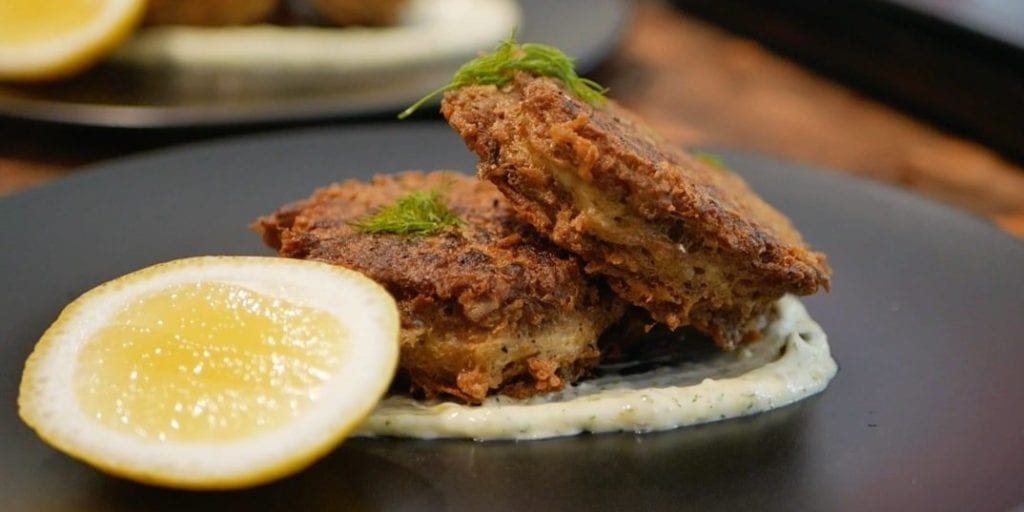 Ingredients for Dill Remoulade
Ingredients for Crab Cakes
Directions for Dill Remoulade
1
NOTE: You will need an immersion blender for this recipe, with the matching blending cup. If you do not have one, use a small food processor.
2
In the mixing cup, add all of the ingredients (listed above) and blend for 10–15 seconds until just combined.
Note: You do not want to blend too much, or it will turn to liquid.
3
Set aside, and keep cool in the fridge.
Directions for Crab Cakes
4
Using a cast-iron pan, heat the pan with enough oil to fully coat the bottom.
Note: I use reserved bacon grease, from cooking bacon, but you can also use avocado or coconut oil. You want the pan to be very hot prior to frying.
5
In a large mixing bowl, add crab meat, mayo, eggs, old bay, and dijon mustard.
6
Stir to combine, but do not over-mix. You want some crab lumps.
7
Using a measuring cup (I use ⅓ cup size for medium crab cakes), scoop some of the crab mix and carefully drop into hot oil. Fry on each side until golden brown - 2 to 3 minutes each side. (NOTE: You do not want to touch the crabcakes while frying. This could cause them to fall apart. Just place it gently, and flip once.)
8
Place on a plate lined with paper towels as they rest, and continue frying the rest, until you've used all of the crab mixture.
9
Serve!
Note: Serve with your favorite grilled veggies (i.e., asparagus), or serve over arugula!
---
Amount Per Serving

% Daily Value *

Total Fat 37.4g

58

%

Total Carbohydrate 0.4g

1

%

Dietary Fiber 0g

Protein 25.5g

51

%
---
* Percent Daily Values are based on a 2,000 calorie diet. Your daily value may be higher or lower depending on your calorie needs.