Print Options:
Keto Ghost Cookies
Yields
16 Servings
Prep Time15 mins
Cook Time1 hr
Total Time1 hr 15 mins
No need to worry about breaking your diet on Halloween with these ghost cookies! They are only 7 calories and 0.1g of net carbs each! That means you can eat the entire tray of cookies for around 110 calories and only 1.6g of net carbs!
Plus, these keto ghost cookies are perfect for the kids or as a fun and decorative treat at Halloween parties! No one will even know they are a healthy-for-you alternative to traditional sugar-filled cookies because their light and fluffy texture and taste replicate a traditional meringue cookie.
The best part about this recipe is that you can customize it to your taste preferences. These are vanilla flavored meringue cookies, but you can add lemon juice to make them lemon meringues, or flavored stevia drops (like chocolate, caramel, or toffee) to add more depth!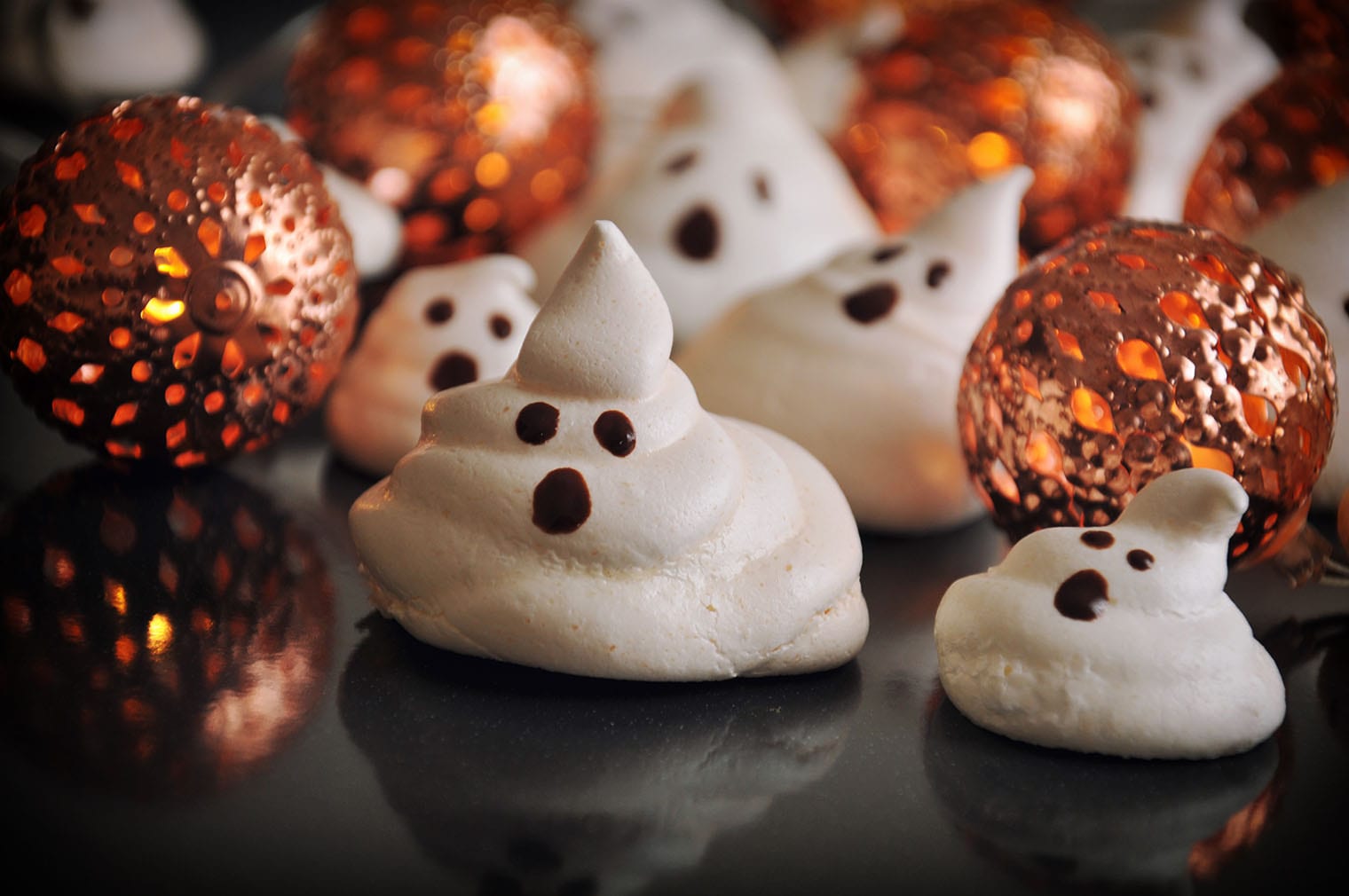 Ingredients
3
tbsp
powdered erythritol
2
tbsp
sugar-free vanilla syrup (or a few drops of vanilla stevia drops)
1
tbsp
sugar-free dark chocolate chips
(Lily's brand used)
Directions
1
Preheat the oven to 200 degrees Fahrenheit and line a baking sheet with parchment paper.
2
Add the egg whites to a large bowl and beat with an electric mixer until soft peaks form.
3
Slowly add in the powdered sweetener, stirring until well combined.
4
Add in the vanilla syrup, stirring until well combined.
5
Beat the mixture until firm peaks form.
6
Once you have firm peaks, transfer the mixture to a piping bag.
Note: if you don't have a piping bag, a ziplock bag works as well.
7
Pipe the mixture onto the parchment paper into ghost shapes. You can do this by piping a large circle, then a smaller circle on top, and then a third smaller one on top.
8
Bake for 60-90 minutes or until firm and set.
9
Allow your ghost cookies to cool before adding the chocolate faces.
10
Once the ghost cookies have cooled, add the chocolate chips and coconut oil to a microwavable safe bowl and microwave in 20 second intervals, stirring in between, until completely melted.
11
Transfer the melted chocolate to a piping bag.
12
Pipe two eyes and a mouth on to each ghost cookie.
Nutrition Facts
Serving Size 1 cookie
Servings 16
---
Amount Per Serving

% Daily Value *

Total Fat 0.4g

1

%

Total Carbohydrate 0.3g

1

%

Net Carbohydrate 0.1g

1

%

Dietary Fiber 0.2g

1

%

Protein 0.5g

1

%
---
* Percent Daily Values are based on a 2,000 calorie diet. Your daily value may be higher or lower depending on your calorie needs.