Print Options:
Strawberry Keto Yogurt
Yields
1 Serving
Prep Time3 mins
Total Time3 mins
Most flavored yogurts are filled with sugar and are definitely not keto-friendly. On the other hand, plain yogurt doesn't taste the best and definitely doesn't satisfy your sweet tooth. If you are craving creamy, fruity, berry-flavored yogurts it can be difficult to find a product that tastes good and is keto-friendly. Instead, try making your own flavored keto yogurt at home! Plain, unflavored Greek yogurt is high in protein and low in carbs making it the perfect base! Simply add your favorite low-carb fruits (like berries) and a little bit of a keto-friendly sweetener and you have a tasty breakfast treat! This strawberry keto greek yogurt recipe only requires 4 ingredients (yogurt, strawberries, sweetener, and heavy cream) and can be made in less than 5 minutes! Give this recipe a try next time you want a break from the basic bacon and eggs keto breakfast!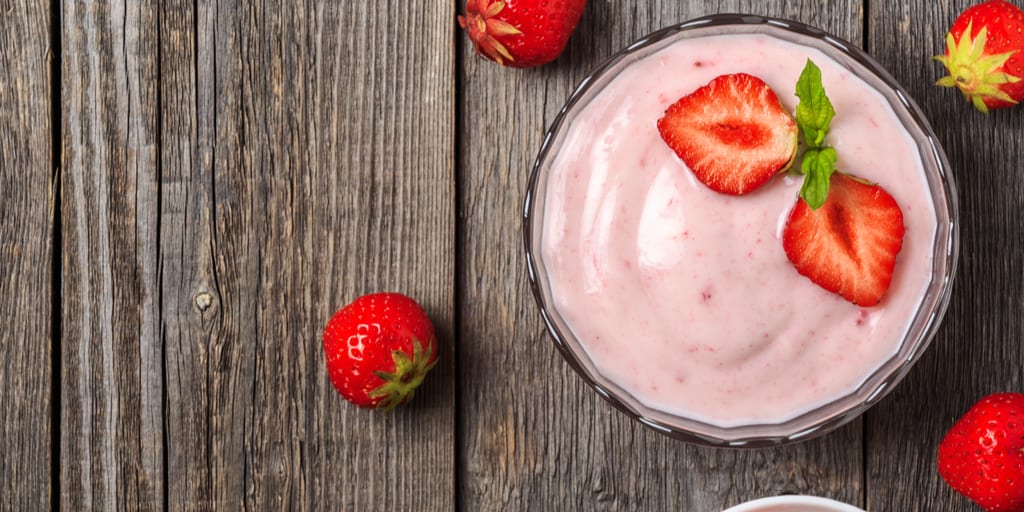 Directions
2
Add the unflavored plain yogurt to the mixture and mix until well combined.
3
Chop up the remaining 2 strawberries.
4
Top your keto strawberry yogurt with the chopped strawberries and enjoy!
Nutrition Facts
Servings 1
---
Amount Per Serving

% Daily Value *

Total Fat 8g

13

%

Total Carbohydrate 8g

3

%

Net Carbohydrate 7g

3

%

Dietary Fiber 1g

4

%

Protein 18g

36

%
---
* Percent Daily Values are based on a 2,000 calorie diet. Your daily value may be higher or lower depending on your calorie needs.