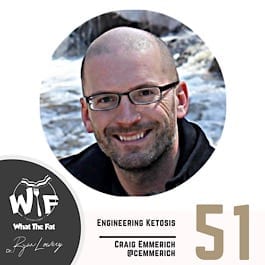 Episode #51
Craig Emmerich graduated with a degree in Electrical Engineering and had always had a systematic approach to his work. He followed his wife Maria Emmerich into the nutrition field and has since dedicated his time researching and looking at nutrition and biology from a systems perspective. Over the last eight years, he has worked with hundreds of clients alongside Maria to help them heal their bodies and lose weight leveraging their biology to make it easy.
In this episode of What The Fat, Dr. Ryan Lowery talks with Craig Emmerich about his wife Maria, the "Beyonce" of Keto.  Craig tells us how he kept Maria's business going and why he fell in love with the ketogenic diet.  Later Craig reveals how Keto has helped with Lyme Disease and his thoughts on protein-sparing modified fasts
***We are aware of audio issues with this podcast. We apologize in advance. Thank you for listening!
Enjoy the show!
Show Notes:
How Craig got involved in Keto 00:01:35
Maria and Craig's blog 00:06:15
Craig and Maria's kids are Keto 00:08:00
Lyme Disease 00:12:15
Keto diet helps Lyme symptoms 00:14:40
Protein-sparing modified fasting 00:16:15
How often you should do a protein-sparing modified fast 00:18:15
Fat fasting 00:19:15
Links/Resources
Blog: https://mariamindbodyhealth.com
Books:
If you like today's episode, subscribe on Apple Podcasts at What The Fat and leave us a 5-star, positive review.
Tips, Recipes, Community: @ketogeniccom
Videos: KetogenicCom YouTube
Last Updated On