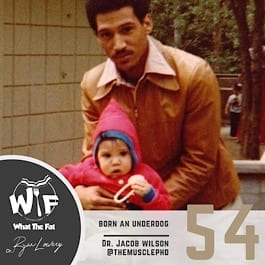 Episode #54
From the time he was 5, Dr. Jacob Wilson Ph.D., CSCS*D knew he was destined to be a scientist. As a child who was never supposed to make it into this world, he represents all that it means to be an underdog. Growing up in poverty, Jacob learned the value of kindness and perseverance, which influenced his decision to leave academia and start the Applied Science and Performance Institute.
In this episode of What The Fat, Dr. Ryan Lowery delves into Jacob's history and all that the "muscle man" had to endure so that he could fulfill his childhood dreams of having a positive influence on the world.
Enjoy the show!
Take-aways
If you take away only one thing from this video, let it be the concept of being an underdog. Understand how and why someone who wasn't even supposed to enter the world was able to help millions. Most importantly, never become complacent. Never lose the passion and hunger of an underdog.
Show Notes:
Jacob Wilson's Story 1:39
The biggest influence on Jacob's life 3:21
What lead to a life of science 4:26
How wanting to gain muscle mass lead to a series of degrees 5:05
How Ryan and Jacob met 5:36
Young investigators of the year award 5:52
Leaving academics to form the A.S.P.I. 6:55
Starting your day with gratitude 8:12
ABC Bodybuilding 9:09
Building ASPI against all odds 11:10
Executing your plans 12:28
How keto Marley from cancer 13:09
Main takeaways 15:06
Tweetable quotes:
"Bringing value is the most important thing you can do."
"The more research you do, the more you can change the world."
"You've got to execute, no matter what you do. You can do anything, but you have to start executing or you'll never do anything."
Links/Resources:
Website: www.themusclephd.com
Dr. Jacob Wilson's Instagram: @themusclephd
Dr. Ryan Lowery's Instagram page: @ryanplowery
If you like today's episode, subscribe on Apple Podcasts at What The Fat and leave us a 5-star, positive review.
Tips, Recipes, Community: @ketogeniccom
Videos: KetogenicCom YouTube
Last Updated On