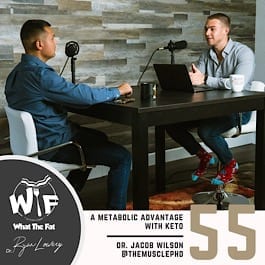 Episode #55
In this episode of What The Fat, Dr. Ryan Lowery, and Dr. Jacob Wilson discuss the metabolic advantage of a ketogenic diet. Whether you are looking to lose weight or gain lean muscle mass, this episode will provide scientific evidence behind the advantage of a ketogenic diet.
Enjoy the show!
Takeaways
Even when calories and protein are matched, there are numerous studies showing that the ketogenic diet provides a metabolic advantage, thus leading to greater fat loss.
Show Notes:
What is a metabolic advantage 1:13

Proving the benefits of a ketogenic diet 8:04

The problem with meta-analysis 10:00

How does keto alter performance 11:34

The effect of keto on brown adipose tissue 12:54

The psychological and physiological aspects of keto versus a low-fat diet 14:35
Tweetable quotes:
"Studies need to control for reality"
"Garbage in equals garbage out"
"Even when calories are protein are matched, there are studies showing there are greater results
on a ketogenic diet."
Links/Resources:
Website: www.themusclephd.com
Dr. Jacob Wilson's Instagram: @themusclephd
Dr. Ryan Lowery's Instagram page: @ryanplowery
If you like today's episode, subscribe on Apple Podcasts at What The Fat and leave us a 5-star, positive review.
Tips, Recipes, Community: @ketogeniccom
Videos: KetogenicCom YouTube
Last Updated On