Print Options:
Easy Keto Quiche (Crust and Crustless Options)
Yields
8 Servings
Prep Time15 mins
Cook Time45 mins
Total Time1 hr
Looking for a simple keto meal prep for breakfast? Try this easy keto quiche recipe. For a quicker recipe, go with the crustless option. Simply mix your eggs, heavy cream, cheeses, and bacon in a dish, toss in the oven for 45 minutes, and forget about it. Remove from the oven, allow to cool, and put into Tupperware for a tasty meal prepped breakfast for the next few days. Plus, this recipe is super customizable; add in your favorite veggies and meats, if you'd like.
For a more traditional quiche flavor, trying making it with a keto pie crust. This will take a bit longer to make, but it definitely does add to the flavor and texture!
Note: the recipe nutrition facts are based on the crustless option. If you decide to make a keto pie crust, please be aware that you will need to factor in those additional calories and macronutrients.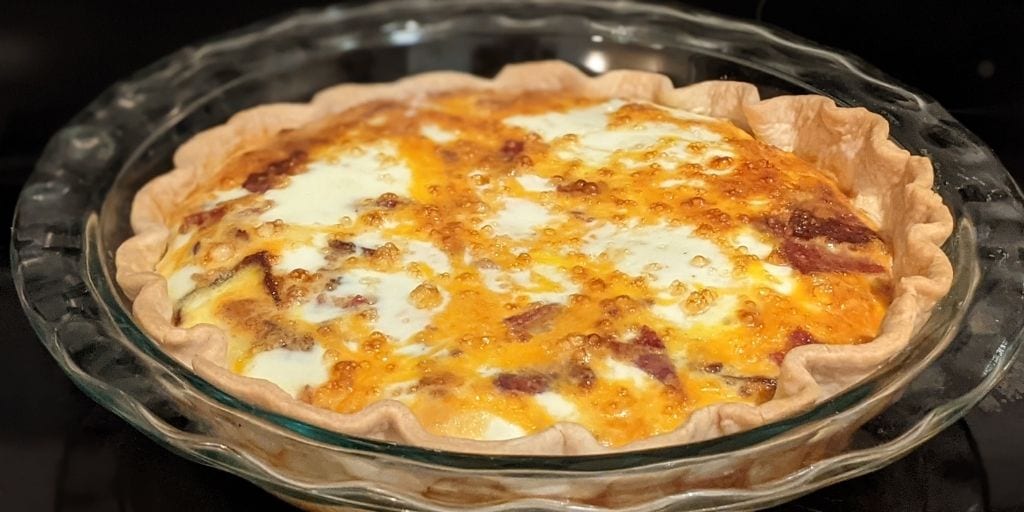 Ingredients
1
cup
heavy cream or half and half
1
cup
cheddar cheese, shredded
3
tbsp
Parmesan cheese, grated
optional: any additional meat or veggies
Directions
Crustless Easy Keto Quiche:
1
Preheat the oven to 350 degrees F.
2
Cook and chop the bacon into pieces.
3
Mix the eggs, heavy cream, and salt together until well combined.
4
Spray a 9-inch pie pan with cooking spray add the chopped bacon, shredded cheese, and parmesan cheese.
5
Pour the egg mixture over top of the meat and cheese and smooth over.
6
Place in the oven and cook for about 45 minutes or until set.
7
Allow your keto crustless quiche to fully cool before serving.
Easy Keto Quiche with Crust
8
Make the pie crust and press into a 9-inch pan.
9
Using a fork, add a few small holes to the bottom of the pie crust (6-8 total).
10
Follow all of the same steps as above.
Note: if the pie crust is not fully cooked after 45 minutes, cook in additional 5-minute intervals until done.
11
Allow cooling before serving.
Nutrition Facts
Serving Size 1 slice
Servings 8
---
Amount Per Serving

% Daily Value *

Total Fat 20.5g

32

%

Total Carbohydrate 2g

1

%

Net Carbohydrate 2g

1

%

Dietary Fiber 0g

Protein 9.1g

19

%
---
* Percent Daily Values are based on a 2,000 calorie diet. Your daily value may be higher or lower depending on your calorie needs.