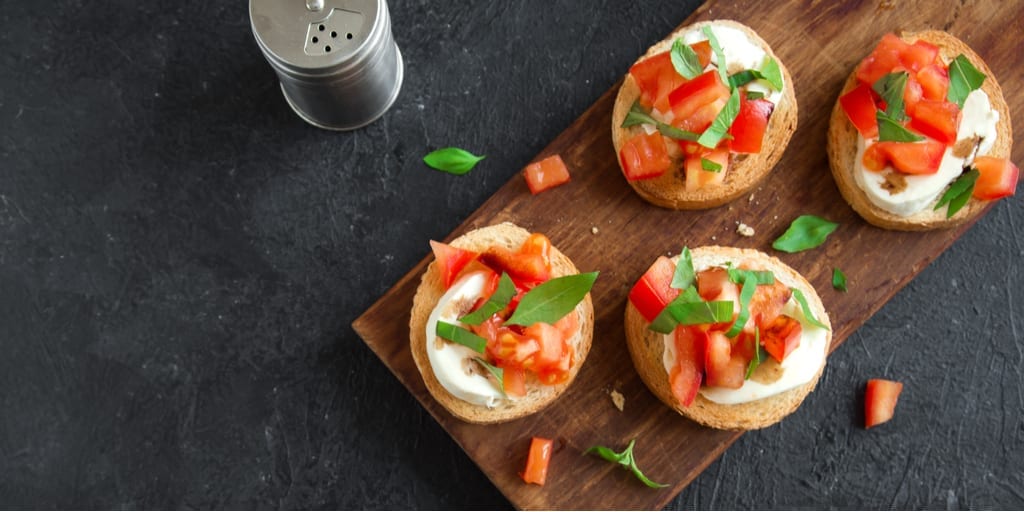 Are you missing Italian food on the ketogenic diet? Try this keto bruschetta with basil oil recipe! It's the perfect low-carb Italian appetizer or side dish! Enjoy it by yourself or at your next Holiday/dinner party with friends and family!
Prep Time15 mins
Cook Time8 mins
Total Time23 mins
Ingredients
For the Crostini
For the Bruschetta
For the Basil Oil
Directions
1
Preheat the oven to 400°F. Coat two 12-well muffin tins with olive oil or cooking spray.
2
Separate the eggs, putting the whites in a large bowl and the yolks in a medium-sized bowl.
3
Whisk the egg whites until frothy, then add the baking soda, salt, and cream of tartar and whip until stiff peaks form, about 3 minutes.
4
To the egg yolks, add the Parmesan cheese, Italian seasoning, paprika, garlic powder, and onion powder and beat until smooth. Using a rubber spatula, gently fold the yolk mixture into the egg whites until fully incorporated.
5
Pour the egg mixture into the greased muffin cups, filling them one-quarter full. Bake for 6 to 8 minutes, until lightly browned. Remove from the oven, transfer the crostini to a cooling rack, and let cool.
6
In a small bowl, mix together the ingredients for the keto bruschetta; set aside.
7
Make the basil oil: In a food processor, blend the basil and olive oil until smooth. Add one-quarter of the basil oil to the bruschetta mixture and stir to combine. Reserve the rest of the basil oil for use as a topping.
8
Once the crostini have cooled, top each with 1 tablespoon of the bruschetta mixture and about 1 teaspoon of the basil oil.
9
Serve your keto bruschetta immediately. Place leftover crostini, keto bruschetta, and basil oil in separate containers; store the crostini at room temperature for 1 to 2 days and the bruschetta and basil oil in the refrigerator for up to 4 days.
Nutrition Facts
Serving Size 3
Servings 4
---
Amount Per Serving

% Daily Value *

Total Fat 12.3g

19

%

Total Carbohydrate 2.7g

1

%

Dietary Fiber 0g

Protein 4.3g

9

%
---
* Percent Daily Values are based on a 2,000 calorie diet. Your daily value may be higher or lower depending on your calorie needs.