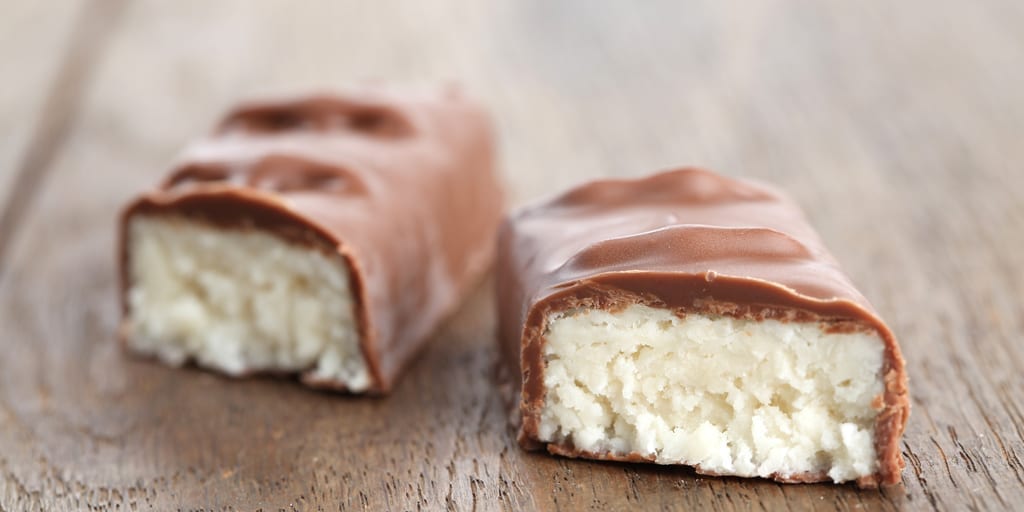 Who doesn't love almond joy candy bars? They are the perfect combination of chocolate, almonds, and coconut, but unfortunately, most are loaded in sugar! Not this scrumptious keto almond joy recipe, though! With this coconut, almond, chocolate bar, you can enjoy candy and be keto too!
This is the perfect, family-friendly treat that the kiddos will love! Swap out the junk-filled traditional candy bars with these keto candy treats instead!
Prep Time1 hr 10 mins
Cook Time5 mins
Total Time1 hr 15 mins
Ingredients
Almond Joy Filling
Chocolate Almond Joy Coating
Directions
Almond Joy Filling
1
Line a bread loaf pan with parchment paper.
2
Start to make combining and heating the coconut milk, powdered erythritol, and stevia drops in a medium saucepan on low heat.
3
Once combined, stir in the coconut oil and xanthan gum (or gelatin) and continue to stir until melted.
4
Stir in the coconut flakes and remove from heat.
5
Pour the keto almond joy coconut filling mixture into the lined bread pan and place in the fridge for 1-2 hours (or until firm).
6
Once set, remove the keto almond joy coconut filling from the fridge and cut into 6 bars.
7
Place the bars onto a baking sheet or plate and press one of the almonds onto the top of each bar. Place back into the fridge until you are ready to coat them.
Chocolate Coating
8
Add the coconut oil and chocolate chips to a microwavable safe bowl and microwave until melted in 30 seconds intervals, stirring in between.
9
Once completely melted and well combined, dip the bars in the chocolate.
10
You have two options for coating the bars. You can either:
1. Place the bars (one bar at a time) into the chocolate coating, flip with a fork until well coated, and place on a wire rack or parchment paper.
or
2. Place the bars onto a wire rack and pour the keto almond joy chocolate coating over each bar.
Nutrition Facts
Serving Size 1 bar
Servings 6
---
Amount Per Serving

% Daily Value *

Total Fat 28.8g

45

%

Total Carbohydrate 13.3g

5

%

Dietary Fiber 10.5g

42

%

Protein 2.9g

6

%
---
* Percent Daily Values are based on a 2,000 calorie diet. Your daily value may be higher or lower depending on your calorie needs.