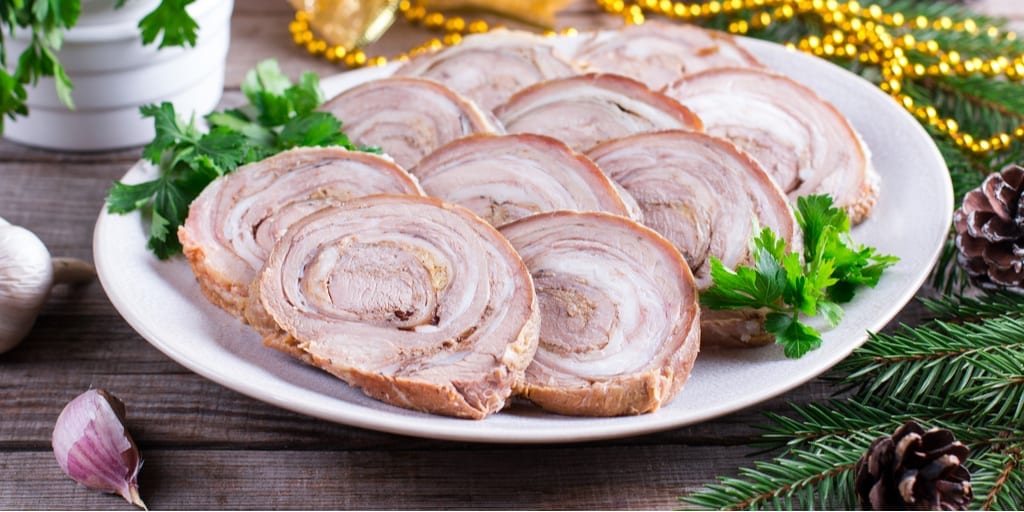 Looking for a low-carb, high-fat meal prep option that tastes great but is easy to make? Look no further than bacon-wrapped cajun keto casserole!
Prep Time15 mins
Cook Time20 mins
Total Time35 mins
Ingredients:
8
oz
andouille sausage, chopped
½
head radicchio, thinly sliced
Directions:
1
Preheat the oven to 375°F. Lay a large sheet of parchment paper on a flat surface. Lay the bacon slices on top of the parchment, cover with plastic wrap, and roll out the bacon with a rolling pin until it is 1/8 inch thick.
2
Line a 9 by 5-inch loaf pan with the bacon so that the inside of the pan is completely covered with bacon and the ends of the bacon slices hang over the edge.
3
Press the sausage into the bottom of the pan on top of the bacon, followed by layers of the zucchini, cream cheese, radicchio, red onion, and cheddar cheese.
4
Fold the bacon strips over the top so that all of the ingredients are completely covered by the bacon. Bake for 18 to 20 minutes, until the internal temperature reaches 155°F.
5
Remove from the oven, pour off any excess grease, then flip the casserole out on a flat surface. Turn the oven to broil, then place the casserole back in the loaf pan with bottom side facing up. Return the pan to the oven for 3 to 5 minutes to crisp the top of the casserole.
6
Transfer the casserole to a cutting board, slice into 6 equal portions, and serve immediately. Store leftovers in an airtight container in the refrigerator for up to 4 days.
Nutrition Facts
Servings 6
---
Amount Per Serving

% Daily Value *

Total Fat 38.9g

60

%

Total Carbohydrate 4.5g

2

%

Dietary Fiber 0.7g

3

%

Protein 26.4g

53

%
---
* Percent Daily Values are based on a 2,000 calorie diet. Your daily value may be higher or lower depending on your calorie needs.