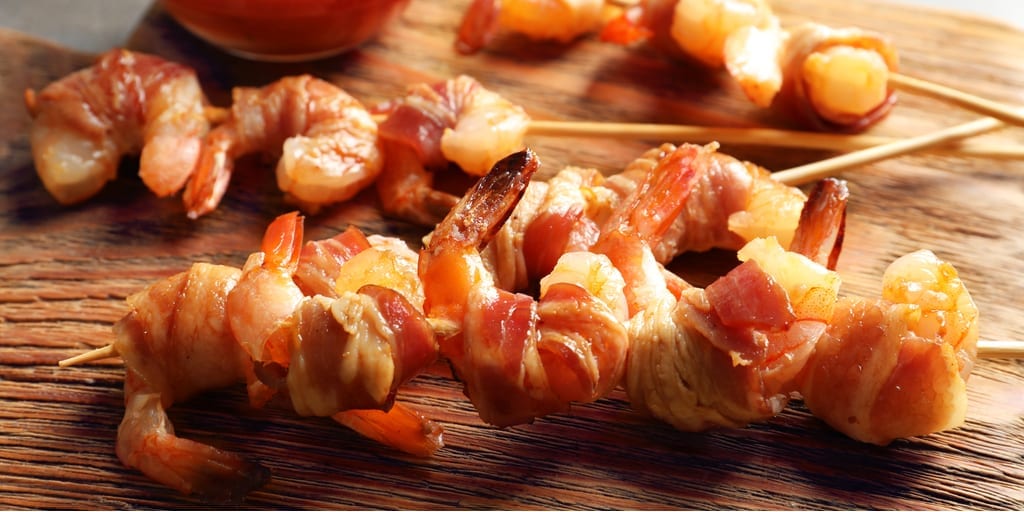 Celebrate your next BBQ or just dinner time with these barbeque bacon-wrapped keto shrimp! They are packed full of smokey and seafood flavor, but has less than 3g net carbs per serving! Enjoy by themself, or with your favorite side dishes like keto mashed cauliflower or keto corn fritters!
Prep Time30 mins
Cook Time10 mins
Total Time40 mins
Ingredients
For the Marinade and Barbecue Sauce
1
tsp
hot sauce, such as Tabasco
Bacon Wrapped Keto Shrimp
Special Equipment
4 (12-inch) wooden skewers
Directions
1
Place the skewers in a container and cover with water; allow to soak for 20 to 30 minutes.
2
Marinate the keto shrimp: In a bowl or shallow dish, whisk together the fish stock, tomato paste, mustard, hot sauce, Worcestershire sauce, chili powder, garlic powder, onion powder, and cayenne pepper, if using. Add the shrimp and marinate for 20 minutes.
3
Preheat a grill to medium heat, or preheat the oven to 350°F.
4
Remove the shrimp from the marinade and set the shrimp aside. Pour the marinade into a small saucepan and bring to a simmer over medium heat. Continue to simmer for 5 minutes, or until the sauce has reduced by one-quarter. Season with salt and pepper to taste, then transfer to a serving bowl. This is your barbecue sauce.
5
Cut the bacon slices in half crosswise and wrap each piece around a shrimp. Place 3 shrimp on each skewer.
6
Grill the keto shrimp for 3 to 4 minutes on each side, or bake for 7 to 10 minutes, flipping halfway through. When the shrimp is slightly opaque, it is done.
7
Serve the keto shrimp with the barbecue sauce. Store leftover shrimp and sauce in separate airtight containers in the refrigerator for up to 4 days.