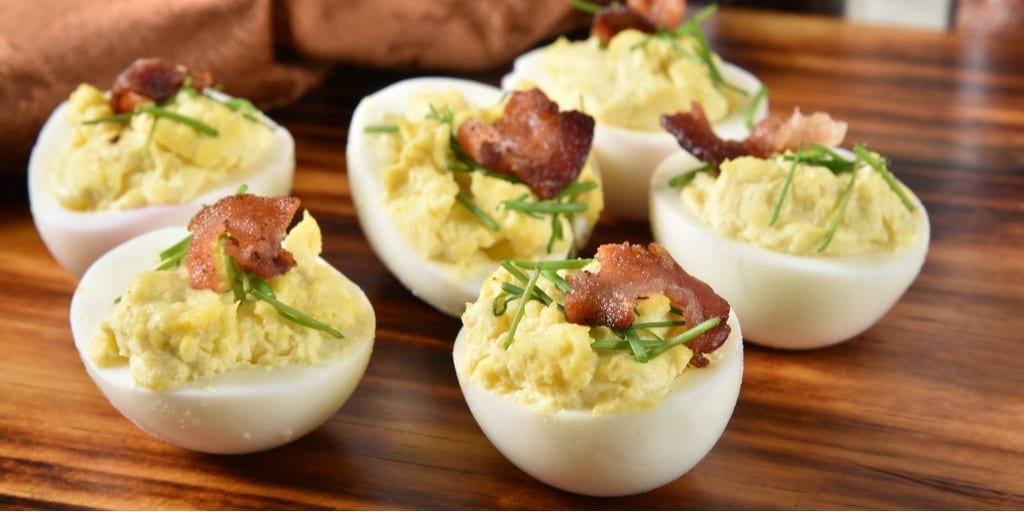 Deviled eggs are a classic side for summertime BBQs and picnics. Most deviled eggs are considered keto because they are low-carb and high fat in nature, but most recipes used common mayonnaise. The problem with this is the fact most mayos use soybean oil as their primary fat source and soybean oil is highly inflammatory and should be avoided! Instead, opt for a healthier choice that uses oils like avocado oil!
These keto deviled eggs are not only tasty, but they are metabolically sound! Plus, the added bacon crumbles on top certainly help them taste better than your run-of-the-mill deviled egg recipe!
Prep Time15 mins
Cook Time20 mins
Total Time35 mins
Ingredients
¼
cup
soybean oil-free mayonnaise
Primal Kitchen brand used
optional: sprinkle fresh dill on top
Directions
1
Place all of the eggs in a saucepan and cover with water.
2
Heat the saucepan over high heat until the water begins to boil, then cover and remove from heat.
3
Allow to sit for 12-14 minutes off of the heat.
4
While the eggs are sitting, cook the bacon in a skillet over medium-high heat until brown and crispy (about 6-10 minutes). Once the bacon is cooked, set aside to cool.
5
Rinse the boiled eggs under cold water for 1-2 minutes.
7
Cut each egg in half and scoop the yolk into a medium-sized bowl. Set the whites aside.
8
Combine the egg yolks, mayo, and seasonings in the medium bowl and mix until well combined.
9
Chop up the cooled bacon.
10
Spoon or pipe the egg yolk mixture back into the egg whites.
11
Sprinkle the chopped bacon over your keto deviled eggs and enjoy!
Nutrition Facts
Serving Size 1 deviled egg
Servings 12
---
Amount Per Serving

% Daily Value *

Total Fat 7.5g

12

%

Protein 3.7g

8

%
---
* Percent Daily Values are based on a 2,000 calorie diet. Your daily value may be higher or lower depending on your calorie needs.