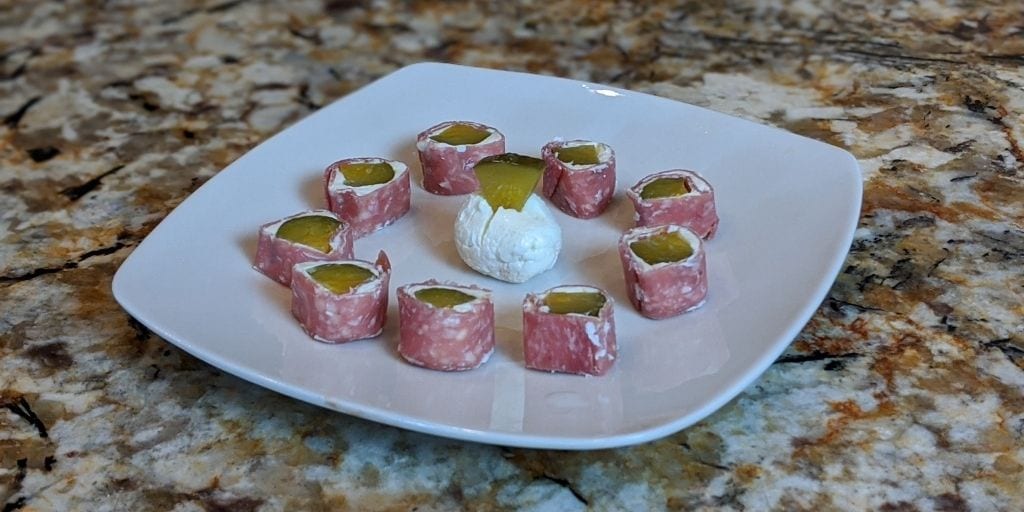 Are you looking for a quick and easy keto snack, appetizer, or charcuterie board filler? These keto rollups only require 3 ingredients but taste amazing! They are the perfect combination of salty pickels, savory salami, and smooth cream cheese! Enjoy these as whole rolls or up them into bite sized pieces for an easy snack for yourself or your family!
Ingredients
10 pickle spears or 2.5 whole pickles quartered
2.50
oz
cream cheese (about 1/3 an 8oz pack)
Directions
1
If you are using whole pickles, cut them into 4ths.
2
Lay out a piece of salami on a plate or cutting board.
3
Spread a dollop of cream cheese onto the salami and spread things.
Note: if you have a difficult time spreading the cream cheese onto the keto roll up, let it sit out at room temperature for 10-15 minutes to soften.
4
Add one of the pickle spears to the bottom end of the salami circle.
5
Roll the salami up around the pickle and continue to roll, tucking the salami slice in.
6
Repeat this step on all of the salami slices.
7
To create bite-size appetizer pieces, cut the keto roll-ups into 5-6 pieces.
8
Serve your keto roll-ups cold and enjoy!
[cooked-nutrition)