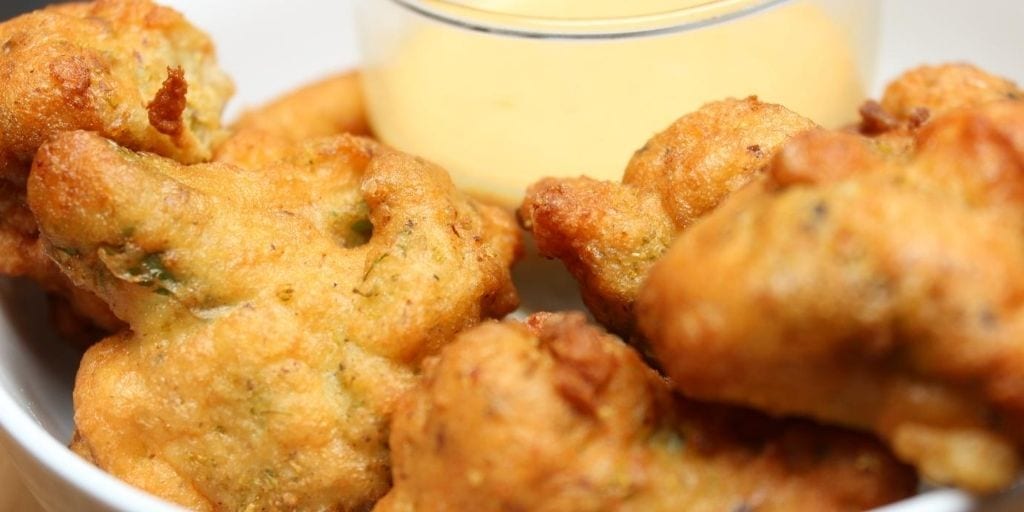 Broccoli is a keto vegetable staple because it's high in fiber, low in net carbs and packed full of micronutrients like calcium, potassium, and zinc! Broccoli can get boring, though, and since it is one the most often consumed keto vegetables, it's fun to spicy it up every once and a while. These keto broccoli bites are a tasty take on traditional broccoli. Each keto broccoli bite is fried to golden, delicious, perfection and served with a creamy spicy mustard sauce.
Prep Time10 mins
Cook Time20 mins
Total Time30 mins
Ingredients
1
qt
olive or avocado oil (for frying)
Batter
1
tsp
Worcestershire sauce
¼
cup
Quest Multi-purpose Mix
Spicy Mustard Sauce
Direction
1
Preheat the oil in a deep-fryer or 2½-quart saucepan over medium heat until the temperature reaches 350°F. (As you work, monitor the temperature and lower or increase the heat under the pot to maintain a consistent 350°F.) Line a sheet pan with paper towels.
2
While the oil heats, prepare the batter: in a mixing bowl, whisk together the half-and-half, eggs, and Worcestershire sauce until fully combined. In another bowl, sift together the almond flour, protein powder, ground flax seeds, spices, and salt. Pour the wet ingredients into the dry ingredients and whisk until a thick, homogenous batter forms.
3
Using one hand, dip a broccoli floret into the batter to coat evenly, then place it directly into the hot oil to fry. Fry for 1 to 2 minutes, then flip to fry the other side for 30 to 60 seconds, until all sides are golden brown. You can fry the dipped florets in batches of 3 or 4 at a time; don't overcrowd the pot or the temperature of the oil will drop.
4
Using a slotted spoon, remove the bites from the oil, place on the paper towel–lined sheet pan, and pat dry with paper towels. Sprinkle with salt. Repeat with the remaining broccoli florets. 05 To make the mustard sauce, whisk together the mustard, mayonnaise, hot sauce, cayenne pepper, and salt to taste
5
Serve and enjoy your keto broccoli bites immediately, with the sauce on the side for dipping. Store leftover bites and mustard sauce in separate airtight containers in the refrigerator; the bites will keep for 1 day, and the mustard sauce for up to 1 week.
Nutrition Facts
Servings 6
---
Amount Per Serving

% Daily Value *

Total Fat 20.3g

32

%

Total Carbohydrate 6g

2

%

Dietary Fiber 2.5g

10

%

Protein 8.9g

18

%
---
* Percent Daily Values are based on a 2,000 calorie diet. Your daily value may be higher or lower depending on your calorie needs.