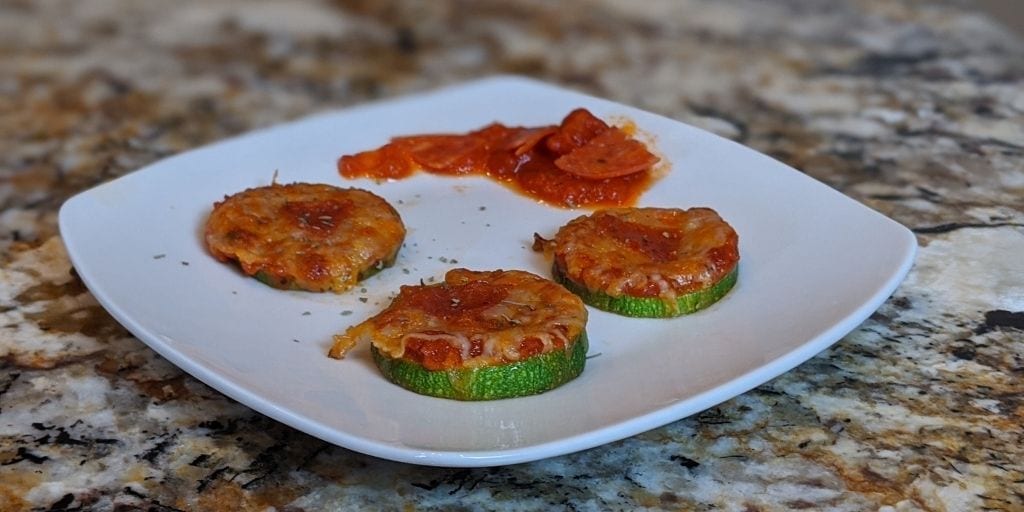 Craving the cheesy, tomato saucy flavor of pizza but don't want all of the carbs? Try these keto pizza bites instead! They pack all of the flavors of pizza but are on zucchini slices instead of dough so not only are you cutting out carbs, but you're getting a serving of vegetables in! These are the perfect appetizer or snack for the whole family (kid love them)!
Plus, you can easily customize this recipe! Just swap out the toppings for any of your favorites! Want to make it more like a meat-lovers pizza? Try adding sausage crumbles and chopped up bacon. Looking for a cheesier pizza bite? Swap the tomato sauce for alfredo sauce and add extra cheese! The possibilities are endless!
Prep Time5 mins
Cook Time10 mins
Total Time15 mins
Ingredients
½
cup
Mozzarella cheese, shredded
¼
cup
sugar-free marinara or tomato sauce
Directions
1
Preheat the oven to degree 375 Fahrenheit.
2
Cut the zucchini into 1/4- 1/2 inch thick slices.
3
Lay out the zucchini slices on a parchment-paper-lined baking sheet.
4
Cut the pepperoni slices into 4ths.
5
Sprinkle the zucchini pieces with Italian seasoning.
6
Evenly spread tomato sauce on the zucchini bites.
7
Evenly sprinkle the shredded cheese onto the zucchini bites.
8
Add a few pepperoni pieces on top.
9
Place in the oven and bake for 10-12 minutes or until the cheese melts and begins to brown.
10
Allow your keto pizza bites to cool before serving.
Optional: serve with a side of marinara sauce.
Nutrition Facts
Serving Size 1 pizza bite
Servings 14
---
Amount Per Serving

% Daily Value *

Total Fat 1.5g

3

%

Total Carbohydrate 0.7g

1

%

Dietary Fiber 0.2g

1

%

Protein 1g

2

%
---
* Percent Daily Values are based on a 2,000 calorie diet. Your daily value may be higher or lower depending on your calorie needs.