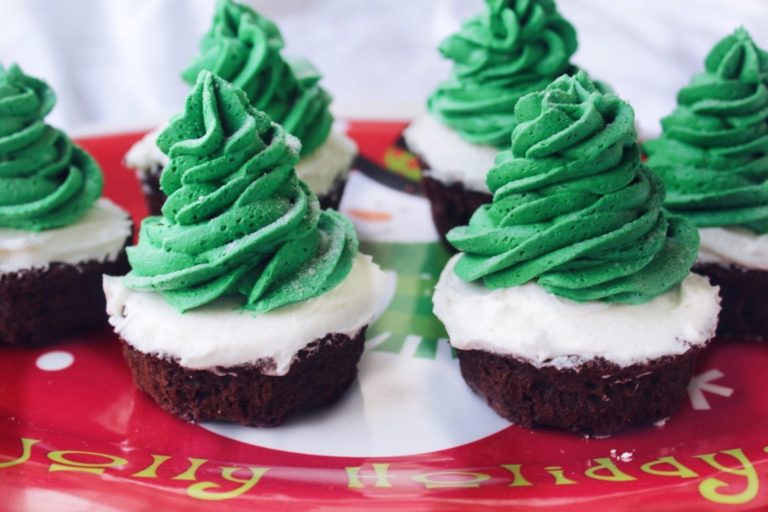 Christmas Tree Chocolate Cupcake
---
Servings: 9
Prep Time: 20 minutes
Cook Time: 15- 18 minutes
---
Ingredients:
1 cup almond flour
1/4 cup unsweetened cocoa powder
1/3 cup granulated stevia
2 egg whites
1 egg
1 tablespoon melted coconut oil
1/2 cup unsweetened almond milk
1 teaspoon baking powder
1/2 teaspoon vanilla
Pinch of salt
---
Frosting:
1/3 cup butter (6 tablespoons)
1/2 cup powdered stevia
2 tablespoons heavy cream
1 teaspoon vanilla
Natural food coloring (Green, preferably gel)
---
Instructions:
1. Preheat oven to 375 degrees F and grease a muffin pan.
2. In a bowl, whisk the dry ingredients. Set aside.
3. In a separate bowl, whisk the wet ingredients with an electric mixer for about two minutes.
4. Add the dry ingredients to the mix and continue whisking for another 2- 3 minutes.
5. With a spoon, pour the batter evenly among the cups.
6. Bake for 15- 18 minutes. Remove from oven and stick a piece of bamboo into the center of one cupcake to make sure they are done (they are done if the stick comes out clean).
7. Let cupcakes cool.
8. In a medium bowl, use an electric mixer on medium to mix powdered stevia and butter. Stir in vanilla and heavy whipping cream.
9. Gradually beat in just enough remaining milk to make frosting smooth. If frosting is too thick, beat in more milk, a few drops at a time. If frosting becomes too thin, beat in a small amount of powdered stevia.
10. Separate 1/3 of the frosting in a separate bowl, add green food coloring to the remaining frosting until you have the desired color.
11. Add white frosting on top of the cupcakes, then put a flower nozzle into a piping bag, fill with green frosting, and make your trees!
---
Calories: 178
Fat: 17.1 g
Carbs: 3.8 g
Fiber: 2.2 g
Protein: 4.7 g