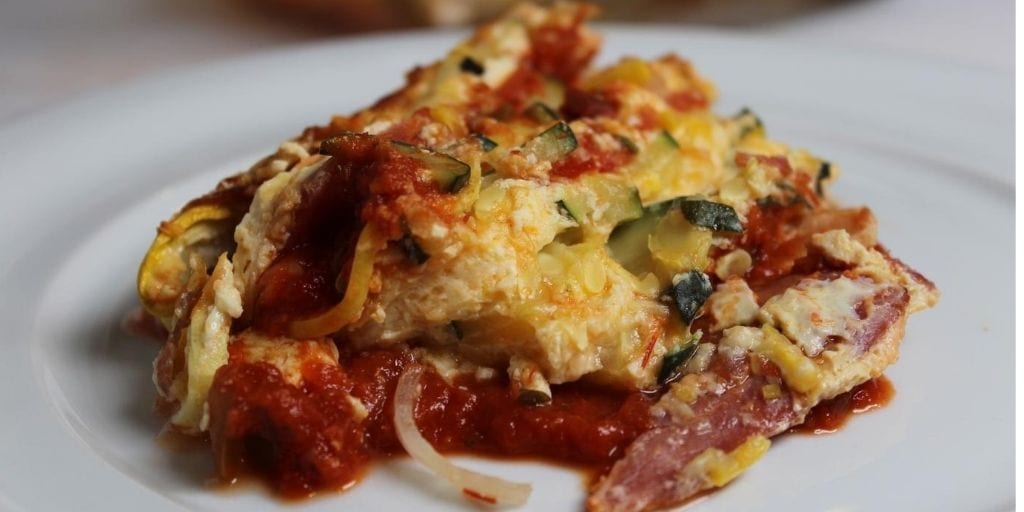 Say no to boring scrambled eggs for breakfast on the keto diet. Spice it up a notch with savory tomatoes, ham, bacon, and eggs all in a breakfast lasagna form.
The best part is that this breakfast keto lasagna is also perfect for busy people! It takes only 20 minutes of prep time, throw it in the oven, and forget about it until it's done! Cut it up and store it for easy breakfast meal prep.
Prep Time20 mins
Cook Time50 mins
Total Time1 hr 10 mins
Ingredients
7
oz
crushed tomatoes (about 1/2 a 14 oz can)
1
medium yellow squash (about 5 ounces)
thinly sliced into half-moons
Directions
1
Preheat the oven to 350°F. Place a cooling rack inside a sheet pan and set aside.
2
Make the sauce: In a large saucepan, simmer the crushed tomatoes, basil, garlic powder, and ½ teaspoon of the salt over medium heat for 20 minutes.
3
Place the bacon on the rack in the sheet pan. Bake for 10 to 15 minutes, until crisp. When the bacon is done, cut the slices in half crosswise.
4
While the sauce and bacon are cooking, place the yellow squash and zucchini slices on a sheet pan and salt evenly with the remaining tablespoon of salt; this will draw out the moisture. Allow to sit for 10 to 15 minutes, then rinse in a colander to remove the majority of the salt.
5
To assemble the lasagna, coat the bottom of a 9 by 5-inch loaf pan or 8-inch square baking dish with 2 to 3 tablespoons of the sauce. Cover the sauce with half of the ricotta, mozzarella, cooked bacon, ham (if using), squash slices, and onion slices. Add the remaining sauce, then repeat with the remaining cheeses, meat, and vegetables.
6
In a large bowl, whisk together the eggs and heavy cream, then pour the mixture over the layered ingredients.
7
Bake the keto lasagna for 30 to 33 minutes, rotating the pan halfway through, until the eggs have set (the lasagna will have very little visible liquid remaining) and the edges have begun to brown. Remove from the oven, top with the Parmesan cheese, and place back in the oven until the Parmesan has browned about 2 minutes.
8
Slice into 4 equal portions and serve your breakfast keto lasagna.
9
Store the keto lasagna leftovers in an airtight container in the refrigerator for up to 4 days.
Nutrition Facts
Servings 4
---
Amount Per Serving

% Daily Value *

Total Fat 32.1g

50

%

Total Carbohydrate 10.1g

4

%

Dietary Fiber 1.6g

7

%

Protein 27.4g

55

%
---
* Percent Daily Values are based on a 2,000 calorie diet. Your daily value may be higher or lower depending on your calorie needs.