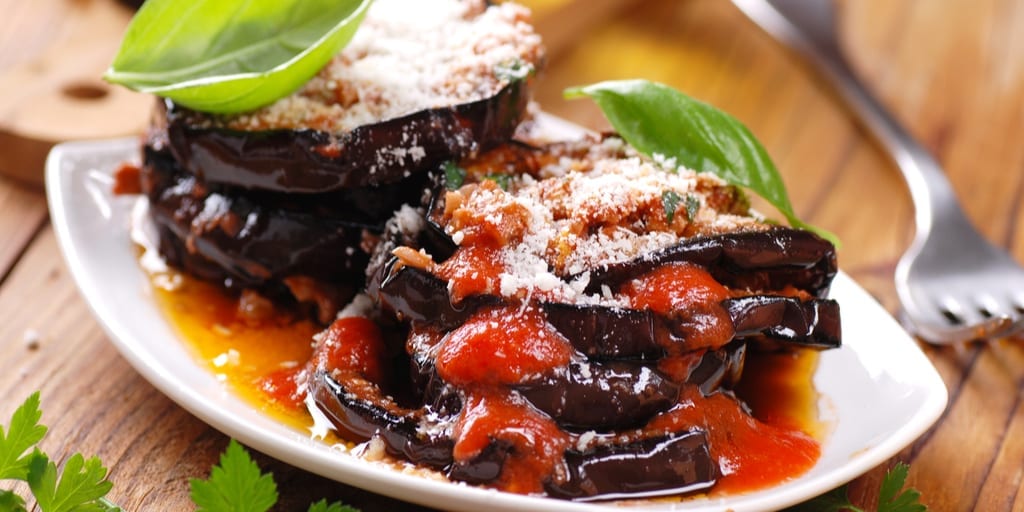 This keto eggplant Parmesan with marinara sauce is the perfect nutrient-packed keto meal prep for lunch or dinner! It's lightly breaded and fried, making it a tasty dish for the whole family.
Prep Time25 mins
Cook Time20 mins
Total Time45 mins
Ingredients:
1
eggplant (about 10 ounces), sliced into ¼-inch-thick rounds
For the Marinara:
For the Breading:
Optional Garnish
additional tomatoes & tomato sauce
Directions
1
Place the sliced eggplant in a large bowl with the water and salt and let sit for 15 to 20 minutes.
2
Remove the eggplant from the water, place in a colander set over a bowl, and allow to drain for 5 minutes, then pat dry.
3
To make the marinara, heat 1 tablespoon of olive oil in a 2½-quart saucepan over medium heat.
4
Add the tomatoes, onion, and garlic and sauté for 4 to 5 minutes, until the onion is translucent. Add the stock and basil and simmer for 15 minutes.
5
While the marinara is simmering, combine the almond flour, Parmesan, and salt in a small bowl.
6
Heat 1 tablespoon of the olive oil in a large skillet over medium heat for 1 to 2 minutes.
7
Lightly dredge both sides of the eggplant slices in the almond flour mixture.
8
Sauté the eggplant in three batches in the skillet for 2 to 3 minutes on each side, then remove from the pan. Repeat two more times with the remaining olive oil and eggplant.
9
Remove the marinara from the heat. If desired, blend the marinara with an immersion blender for a smoother sauce, or leave it chunky.
10
To serve, spoon some of the sauce onto a plate and top with 4 or 5 eggplant slices, then drizzle with extra-virgin olive oil.
11
Store the keto eggplant Parmesan and marinara in separate airtight containers in the refrigerator for up to 5 days.
Nutrition Facts
Servings 4
---
Amount Per Serving

% Daily Value *

Total Fat 27.3g

42

%

Total Carbohydrate 8.6g

3

%

Dietary Fiber 3.4g

14

%

Protein 10.7g

22

%
---
* Percent Daily Values are based on a 2,000 calorie diet. Your daily value may be higher or lower depending on your calorie needs.