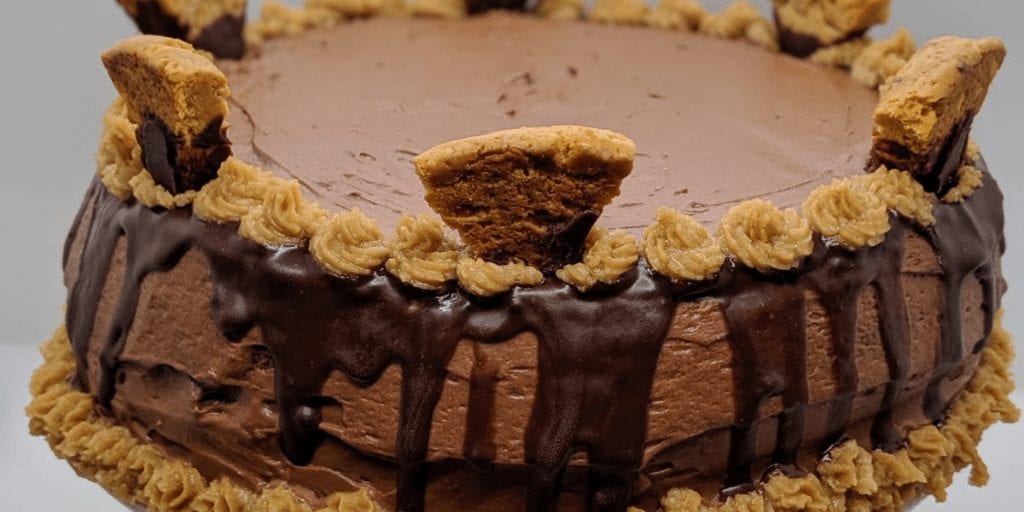 This delicious double layer peanut butter chocolate cake is packed with flavor and protein without all of the added sugar.
Prep Time20 mins
Cook Time25 mins
Total Time1 hr 20 mins
Ingredients
Cake Batter
Middle Layer Frosting
Outer Layer Frosting
Optional Toppings
Directions
1
Preheat oven to 350°F, grease 2 cake pans, and line a cookie sheet with parchment paper.
2
Cut the 2 protein bars into smaller pieces and place on baking sheet.
3
Bake the bar pieces for 5 minutes or until firm.
4
Allow the pieces to completely cool before placing them in a food processor or blender.
5
Blend the bar pieces until they are a fine, powder-like consistency.
6
Mix all of the dry cake batter ingredients together in a bowl, including the blended bar pieces.
7
Blend all of the wet ingredients together in a separate bowl until smooth.
8
Slowly pour the dry batter into the wet batter bowl, stirring until well combined.
9
Pour 1/2 batter into one greased pan and the remaining 1/2 into the other.
10
Bake for 22-25 minutes or until done.
Note: You can test to see if the cake is done by sticking a toothpick into the center. If it comes out clean, it is done.
11
Once the cakes are done, allow to completely cool either in the fridge or at room temperature.
Middle Layer frosting
12
While cakes are cooling, blending together all middle layer frosting ingredients together until well combined.
13
Once cakes have cooled, start by placing one cake on a serving plate/stand.
14
Spread 3/4 of the middle frosting mixture on top of the first cake layer.
15
Place the second cake on top of the middle frosting layer.
16
Place in fridge and allow to cool while making the top layer of frosting.
Top Layer Frosting
17
In a microwavable safe bowl, add the chocolate chips and melt.
Note: Chocolate burns easily so melt in 20-30 second intervals, stirring in between.
18
Add the heavy cream and butter and to the melted chocolate and blend until smooth.
19
Remove the cake from the fridge and top with frosting.
20
Use the remaining 1/4 middle layer peanut butter frosting to pipe onto the sides of the cake.
Optional: Try topping with drizzled chocolate and protein cookie pieces (not included in nutrition)
21
Chocolate drizzle: Melt 2 tbsp chocolate chips and 1 tbsp coconut oil together and drizzle on top of the cake with a spoon.
22
Cookie pieces: Cut a peanut butter protein cookie into pieces and top on the cake.
Nutrition Facts
Serving Size 1 slice
Servings 12
---
Amount Per Serving

% Daily Value *

Total Fat 25g

39

%

Total Carbohydrate 11g

4

%

Dietary Fiber 4g

16

%

Protein 25g

50

%
---
* Percent Daily Values are based on a 2,000 calorie diet. Your daily value may be higher or lower depending on your calorie needs.