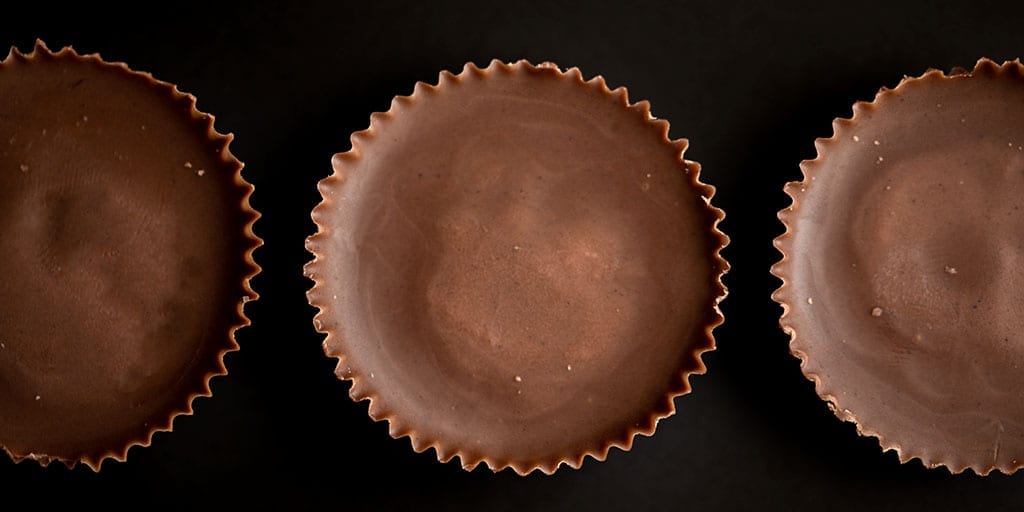 Who said you can't enjoy your favorite chocolate snacks on a keto diet? Indulge that sweet tooth with these keto-friendly Reese's Cup fat bombs.
Chocolate Shell
Peanut Butter Filling
1
Roughly chop the dark chocolate for the chocolate shell, place in a microwave safe bowl, microwave on high for 1-2 minutes, stirring every 15 seconds.
2
Once melted, remove from microwave and mix in protein powder, butter, and erythritol stevia blend.
3
Using a small silicone mold (1/2 oz. wells) fill each well halfway full of chocolate and place at room temperature or in the refrigerator to harden.
4
In a microwave-safe bowl, melt together remaining peanut butter and butter for 1 minute, stirring every 15 seconds; add in remaining sweeteners and spices.
5
Top each previously hardened chocolate mold evenly with peanut butter mixture, place in refrigerator to harden, then top evenly with remaining chocolate. Enjoy your Reese's Cup Fat Bombs!
Nutrition Facts
Serving Size 1
Servings 12
---
Amount Per Serving

% Daily Value *

Total Fat 5.3g

9

%

Total Carbohydrate 3.8g

2

%

Dietary Fiber 1g

4

%

Protein 1.8g

4

%
---
* Percent Daily Values are based on a 2,000 calorie diet. Your daily value may be higher or lower depending on your calorie needs.