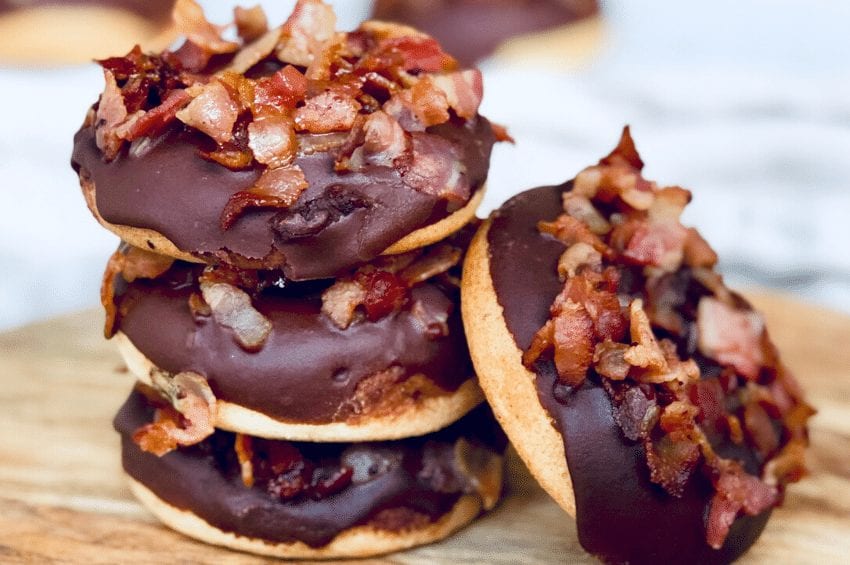 Donuts are a staple sweet breakfast treat but, normally limited on the ketogenic diet due to their high carb content. Luckily, not only are these chocolate donuts keto, but they also have bacon and what's better than chocolate donuts? Bacon chocolate donuts!
Ingredients
Donuts
Chocolate Glaze
Directions
1
Preheat the oven to 325°F.
2
Mix dry ingredients for the donuts in a bowl.
3
Add the water, butter, and sweetener in a saucepan and heat over medium-high heat.
4
Remove from heat once it begins to simmer and add the dry ingredients.
5
Stir the mixture for 1-2 minutes with a spoon until the mixture loosens from the sides.
6
Cool the dough in a bowl.
Note: This is done so that when the eggs are added they do not begin to cook and scramble.
7
Chop the bacon to small pieces, fry in a pan until golden, and set aside.
8
Mix the eggs into the dough one at the time with an electric mixer.
Note: The dough should be a bit sticky.
9
Mix in baking powder, vanilla, and half the bacon.
11
Either spoon the dough in or put in a piping bag and pipe into the donut tins.
12
Bake for 15 minutes, then cover in baking foil and bake for an additional 5-8 minutes.
13
Remove from the oven and allow to cool.
14
To make the glaze, melt the chocolate and butter in a saucepan.
15
Stir in the sweetener, cocoa powder, and almond milk.
16
Dip the donuts in the glaze before it cools.
17
Sprinkle fried bacon pieces on top before the glaze sets.
18
Enjoy your bacon keto chocolate donuts for breakfast, dessert, or anything in between!
Nutrition Facts
Serving Size 1
Servings 12
---
Amount Per Serving

% Daily Value *

Total Fat 17g

27

%

Total Carbohydrate 1g

1

%

Protein 6g

12

%
---
* Percent Daily Values are based on a 2,000 calorie diet. Your daily value may be higher or lower depending on your calorie needs.