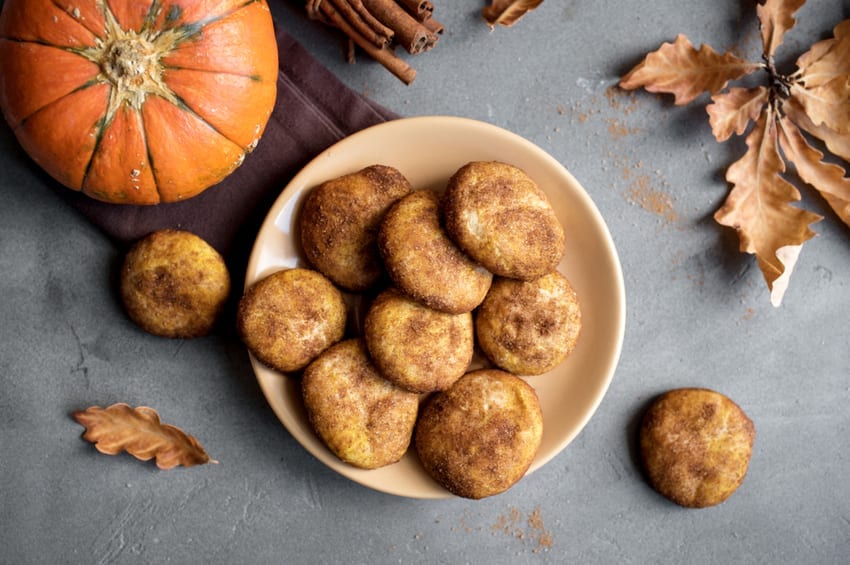 These keto snickerdoodles are the perfect cookie for the holiday season! The cinnamon and maple bourbon caramel flavors blend perfectly in this tasty fall treat!
When presenting these cookies, a garnish of halved grapes offers a nice contrast in texture and flavor, but the grapes are not necessary.
Prep Time15 mins
Cook Time11 mins
Total Time26 mins
Ingredients
For the Cookies
For the Topping
For the Caramel
Directions
1
Preheat the oven to 350°F and line a baking sheet with a silicone baking mat or coat with cooking spray.
2
In a large bowl, sift together the coconut flour, almond flour, hazelnut flour, psyllium husk powder, salt, spices, xanthan gum, erythritol, and baking soda; set aside.
3
In a medium-sized bowl, whisk together the remaining cookie ingredients until thoroughly combined.
4
Pour the wet ingredients into the dry ingredients and combine with a rubber spatula until a dough forms.
5
Scoop up 2 tablespoons of the dough, roll it into a ball between your palms, place it on the baking sheet, and press down with your palm to flatten slightly. Repeat with the rest of the dough, leaving 1 inch of space between cookies. Bake for 8 to 11 minutes, until the edges of the cookies begin to brown.
6
While the cookies are baking, whisk together the ingredients for the topping and set aside.
7
To make the caramel, heat the clarified butter in a sauté pan over high heat for 2 to 3 minutes, until it gives off a nutty flavor. Whisk in the erythritol, bourbon (if using), and maple extract until the erythritol dissolves. Whisk in the cream until the mixture is fully combined. Remove from the heat.
8
Remove the keto snickerdoodles from the oven, coat with cooking spray, and dust with the topping. Using a flat surface (like a drinking glass), press the topping into the cookies. You can also place the topped cookies under the broiler for 1 minute to toast the topping.
9
Transfer the keto snickerdoodles to a cooling rack and allow to cool for 10 to 15 minutes. Serve each cookie with 1 tablespoon of the caramel.
10
Store leftover keto snickerdoodles in an airtight container at room temperature for up to 5 days. Store leftover caramel in an airtight container in the refrigerator for up to 1 week. To reheat the caramel, microwave in 20-second increments for 1 to 2 minutes, until it is viscous.
Nutrition Facts
Serving Size 1
Servings 10
---
Amount Per Serving

% Daily Value *

Total Fat 13.5g

21

%

Total Carbohydrate 3.6g

2

%

Dietary Fiber 2.5g

10

%

Protein 2.1g

5

%
---
* Percent Daily Values are based on a 2,000 calorie diet. Your daily value may be higher or lower depending on your calorie needs.