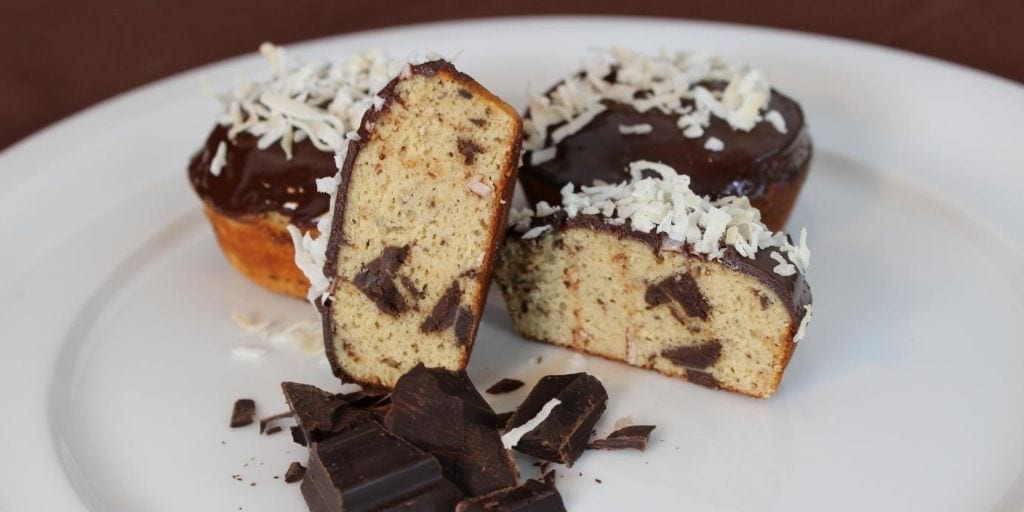 Treat yourself to the delectable taste of coconut and rich chocolate with these keto chocolate chip muffins! They pack all of the flavors of an Almond Joy or Mounds candy bar within the fluffy texture of a muffin. The best part? They are only 3.8 carbs each!
Prep Time20 mins
Cook Time23 mins
Total Time43 mins
Ingredients
1 ¾
cups
vanilla protein powder
⅔
cup
plain, unsweetened 2% fat Greek yogurt
For the Chocolate Coating
Directions
1
Preheat the oven to 350°F and line a 12-well muffin tin with paper liners.
2
Sift the coconut flour, protein powders, erythritol, baking powder, and salt into a large bowl; set aside.
3
In another large bowl or the bowl of a tabletop mixer, using a hand mixer or the whisk attachment for the tabletop mixer, cream the cream cheese, yogurt, and butter until smooth, 2 to 3 minutes. Add the eggs, one at a time, continuing to beat until the wet ingredients are fully combined.
4
Pour the wet ingredients into the dry ingredients and combine with the mixer until smooth. Fold in the chocolate chips.
5
Pour the batter into a pastry bag, then pipe it into the muffin cups, filling them about three-quarters full. Bake for 20 to 23 minutes, until a toothpick inserted in the center of a muffin comes out clean.
6
Remove the muffins from the pan and place on a cooling rack to cool.
7
While the muffins are cooling, prepare the chocolate coating: Place the chopped chocolate in a microwave-safe bowl. Microwave on high for 2 to 3 minutes, stirring every 30 seconds, until smooth. Add the butter and sucralose to the melted chocolate and mix to incorporate.
8
Once the muffins are cool, dip the tops in the melted chocolate (you may need to rewarm the chocolate in the microwave for 15 to 30 seconds if it begins to solidify), then sprinkle the tops with shredded coconut. Store in an airtight container at room temperature for up to 3 days, or freeze for up to 1 month.
Nutrition Facts
Serving Size 2
Servings 12
---
Amount Per Serving

% Daily Value *

Total Fat 30g

47

%

Total Carbohydrate 14.9g

5

%

Dietary Fiber 7.3g

30

%

Protein 15.9g

32

%
---
* Percent Daily Values are based on a 2,000 calorie diet. Your daily value may be higher or lower depending on your calorie needs.