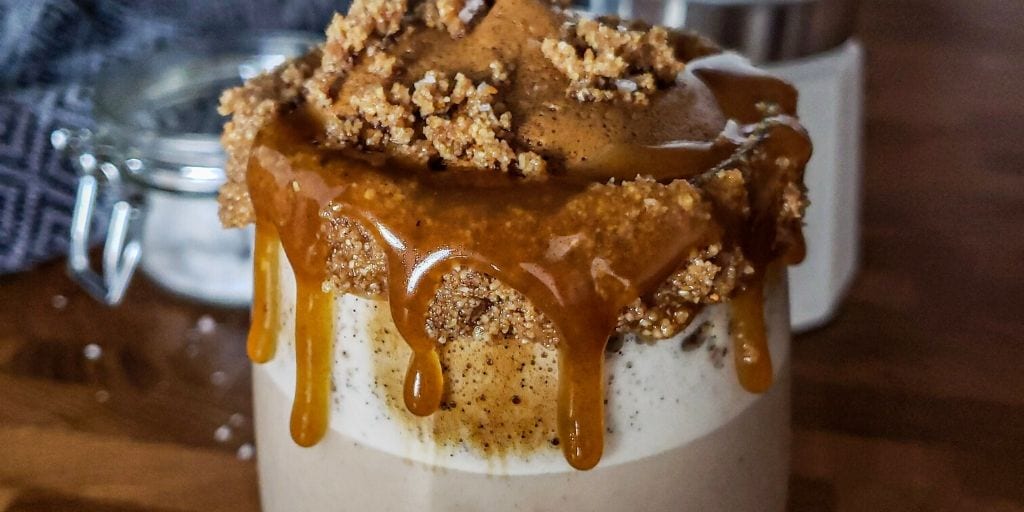 Dalgona coffee has been a popular item on social media and a great change-up to your coffee game during this pandemic! But fret not, this isn't your typical dalgona that's super bitter! Haha! Quite honestly, I am not a fan of the original! So, I went HAM on it to actually make it look good and taste divine! Low and behold Keto Dalgona Horchata! Enjoy!
Prep Time10 mins
Cook Time15 mins
Total Time25 mins
Ingredients
Cookie Crumb
Dalgona
Milk
Caramel
Directions
1
For the caramel follow the link and in a small saute over medium-high heat add your butter for the caramel and let brown. When brown, add the remaining ingredients and stir briefly to combine. Reduce heat to a low simmer and let simmer 12 minutes *do not stir* or it will break. Place in a squeeze bottle and add to the freezer to cool down. Reserve for later. This can be made ahead of time.
2
In a small saute pan over medium-high heat, toast off your almond flour, tossing occasionally to prevent burning and even toasting, and add remaining ingredients. Spread thinly on a small plate and place in freezer to harden. Reserve for later. This can be made ahead of time.
3
In a blender, add in all your ingredients for the 'Milk' and blend just until combined. Reserve for later.
4
Now, add all your ingredients for the dalgona into a medium mixing bowl and whisk on medium with a hand mixer until thick like me and oh so light and golden!
5
Chill your glass of choice briefly. Remove and dip the rim of the glass in a bit of caramel and then straight into the cookie crumb mix.
6
Pour in the 'Milk' mixture and top with the dalgona using a spoon.
7
Sprinkle with a bit more cookie crumb, a drizzle of caramel around the rim, and a pinch of flake salt.
8
Serve your delicious keto dalgona horchata coffee and enjoy!
Nutrition Facts
Serving Size 1
Servings 2
---
Amount Per Serving

% Daily Value *

Total Fat 10g

16

%

Total Carbohydrate 4g

2

%

Dietary Fiber 0g

Protein 3g

6

%
---
* Percent Daily Values are based on a 2,000 calorie diet. Your daily value may be higher or lower depending on your calorie needs.