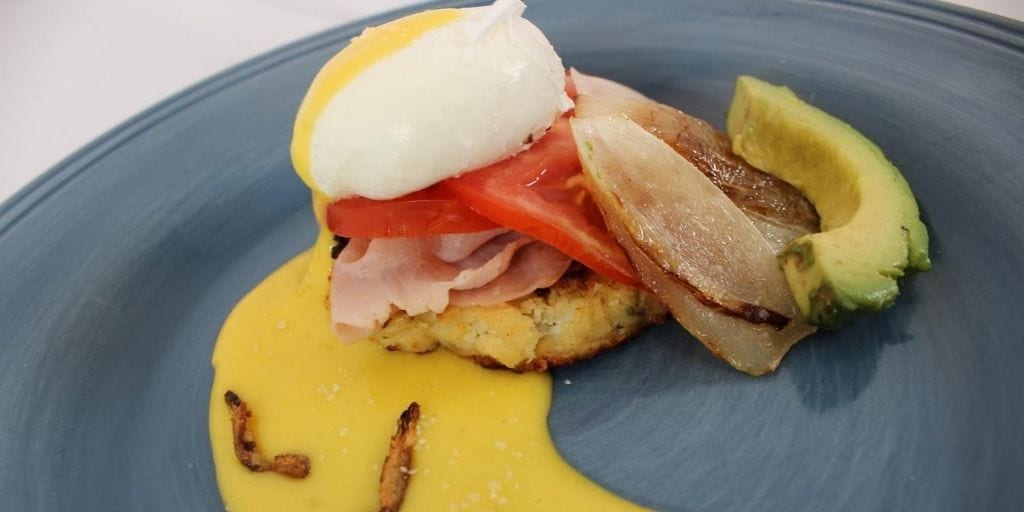 This keto eggs benedict recipe combines the delicious flavor of poached eggs and an English muffin! This tasty recipe is low-carb, gluten-free, and simple to make! A lot of keto breakfast recipes contain eggs, but normally stick to scrambled or fried. Poaching your egg can add a bit of variety and spice up your keto breakfast game!
Poaching is a method in which a vegetable, meat, fruit, or egg is cooked in a simmering liquid such as stock, fruit juice, or water. The temperature of the liquid should be 160°F to 180°F so that liquid is evaporating (i.e., creating steam) but is not at a rolling boil.
Prep Time15 mins
Cook Time15 mins
Total Time30 mins
Ingredients
For the toppings
For the English Muffin
Directions
1
Bring the water and vinegar to a simmer in a saucepan over medium heat. Set a colander over a large bowl and line a sheet pan with parchment paper. Preheat the oven to 350°F.
2
To make the muffins, place the almond flour, coconut flour, baking powder, garlic powder, onion powder, and salt in a bowl and whisk to combine. In a separate bowl, whisk together the eggs and melted butter until thoroughly blended. Pour the egg mixture into the flour mixture and mix until a batter forms. Set aside until Step 5.
3
To make the toppings, crack an egg into a small bowl, swirl the simmering water to create a vortex, and then gently pour the egg into the water so that the yolk doesn't crack. Cook for 3 minutes for a soft-cooked yolk or 4 to 5 minutes for a harder yolk. Gently remove the egg from the water with a slotted spoon and place in the colander. Once completely drained, transfer to a flat surface and set aside. Repeat with the remaining eggs. Note: You can poach more than one egg at a time, but given the amount of liquid used, do not poach more than 3 eggs at once.
4
Spread the Canadian bacon evenly on the prepared sheet pan and place in the oven to warm for 8 to 10 minutes.
5
While the eggs are poaching, make the English muffins: Heat 1 tablespoon of butter in a large sauté pan over medium heat. Using a ¼-cup measure filled two-thirds full, portion out the batter into the pan. Cook for 2 to 3 minutes, until browned, then flip and cook for 1 to 2 minutes on the other side. Remove from the pan, transfer to a plate, and repeat with the remaining batter to make a total of 8 muffins, adding more butter to the pan if needed.
6
To assemble, place 2 English muffins on a plate and top each with 1 slice of Canadian bacon, 1 slice of tomato, and 1 poached egg. Drizzle with hollandaise and serve immediately. This recipe does not store well, so it should be consumed when made.
7
Serve and enjoy your keto eggs benedict!
Nutrition Facts
Servings 4
---
Amount Per Serving

% Daily Value *

Total Fat 41.3g

64

%

Total Carbohydrate 8.4g

3

%

Dietary Fiber 5.3g

22

%

Protein 28.9g

58

%
---
* Percent Daily Values are based on a 2,000 calorie diet. Your daily value may be higher or lower depending on your calorie needs.