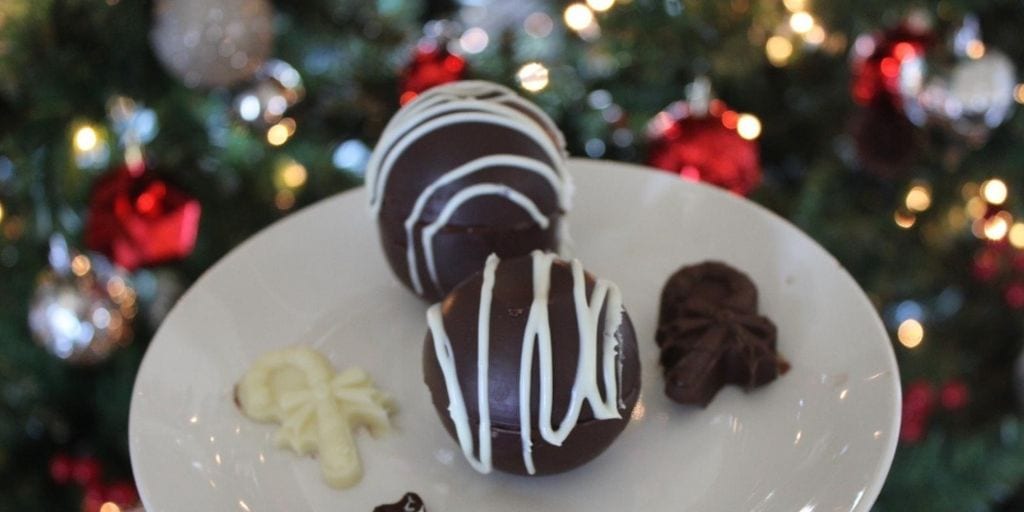 If you are on TikTok, you've probably seen the hot cocoa bomb trend that went viral! Similar to bath bombs, these hot cocoa bombs dissolve in liquid and look beautiful, but they are made from chocolate and turn a cup of warm milk into hot cocoa. The hot cocoa bombs you have seen on social media are packed full of sugar, so we decided to make a keto version of a hot cocoa bomb so even low-carb dieters out there can enjoy it!
We topped ours with Lily's peppermint white chocolate chips, but you can top yours with whatever keto-friendly candy or chocolate you'd like. We also chose to put our hot cocoa bomb in unsweetened almond milk, but you can also try unsweetened coconut milk or heavy cream.
Prep Time20 mins
Cook Time1 min
Total Time51 mins
Ingredients
Hot Cocoa Bomb Shell
1
cup
keto milk chocolate chips
(Bake Believe brand used)
optional: 2 tbsp keto peppermint chocolate chips for topping
(Lily's brand used)
Hot Cocoa Filling
3
tbsp
unsweetened cocoa powder
2
keto marshmallows
(Max Mallow brand used)
Special Equiptment
hot cocoa bomb chocolate mold
Directions
1
Place the chocolate chips in a microwavable safe bowl and microwave in 20-second intervals until melted.
2
Pour the melted chocolate into the chocolate molds, swirling around until the chocolate coats all edges. If you have a difficult time with this step, you can use a spoon and spoon the chocolate up the sides. It's okay if it's not perfect because you can fix the edges later.
3
Place in the fridge for 30 minutes or until the chocolate set.
4
Cut the marshmallows into small pieces that resemble mini-marshmallows.
5
Combine the unsweetened cocoa powder and erythritol in a bowl.
6
Once the keto hot cocoa bombs are hard, remove them from the fridge and gently pop them out of the mold.
7
Heat a skillet or griddle over low heat.
8
If you need to smooth out the edges of the cocoa bomb, swirl the uneven portion on the heated skillet for a few seconds or until smooth.
9
Spoon 1 tbsp of the mixture and a few mini marshmallows into the chocolate bomb.
10
Heat one of the half circles on the skillet by gently touching it to the heat (just enough to slightly melt the edge) and then place it on top of the filled half to make a sphere. Press down so that it seals.
11
Option to drizzle melted peppermint chocolate on top.
12
Serve your keto hot cocoa bomb with 8 oz of heated unsweetened almond or coconut milk immediately or store in the fridge for later use.
Nutrition Facts
Serving Size 1
Servings 3
---
Amount Per Serving

% Daily Value *

Total Fat 26g

40

%

Total Carbohydrate 31g

11

%

Dietary Fiber 24g

96

%

Protein 6g

12

%
---
* Percent Daily Values are based on a 2,000 calorie diet. Your daily value may be higher or lower depending on your calorie needs.