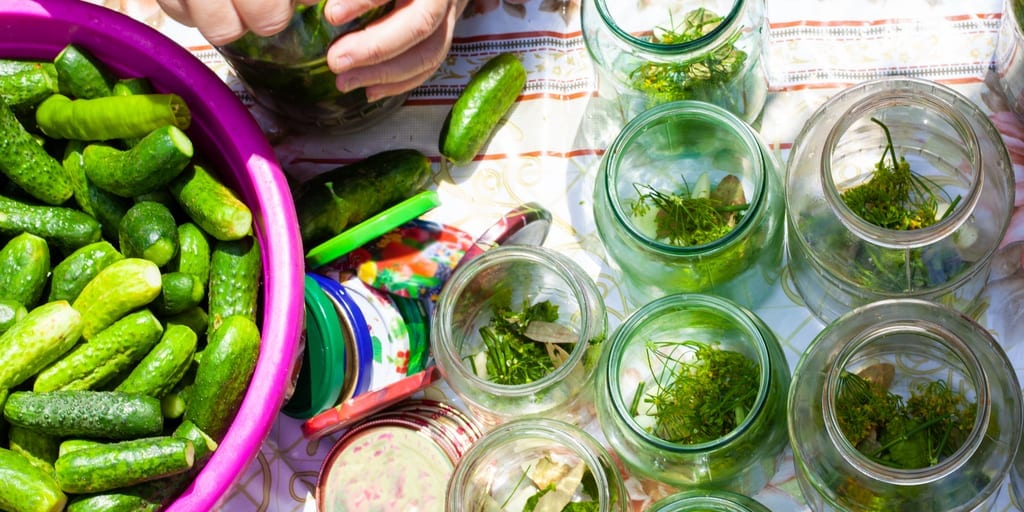 Pickles are not only perfect for topping a burger or sandwich but can make for a tasty snack on keto. The pickling process adds sodium (from the salt), which makes pickles a great snack for replenishing electrolytes on the keto diet. Not to mention, cucumbers are low in calories and carbs, so they are a simple snack that won't ruin your macros. Enjoy this recipe for homemade keto pickles and if you try it and like it, maybe try customizing it next time. Add a little bit of red pepper or cayenne pepper for extra spice. Italian seasoning or even mustard seeds mix really well with pickles, so maybe try adding new spices next time if you are looking to change it up a bit!
Directions
1
Wash and cut the cucumbers (either in spears or slices).
2
In a mason jar or other resealable jar, combine all of the ingredients, except the cucumbers.
3
Put the lid back on the container and shake to evenly mix.
4
Place the cucumber slices or spears into the jar with the mixture and reseal the lid.
5
Allow your keto pickles to sit in the fridge for at least 24-36 hours.
Note: allowing them to sit longer will enhance the flavor.
6
Store your homemade keto pickles in the fridge for up to 30 days after making.
Nutrition Facts
Serving Size 1 spear
Servings 8
---
Amount Per Serving

% Daily Value *

Total Fat 0.1g

1

%

Total Carbohydrate 0.8g

1

%

Dietary Fiber 0.2g

1

%

Protein 0.2g

1

%
---
* Percent Daily Values are based on a 2,000 calorie diet. Your daily value may be higher or lower depending on your calorie needs.