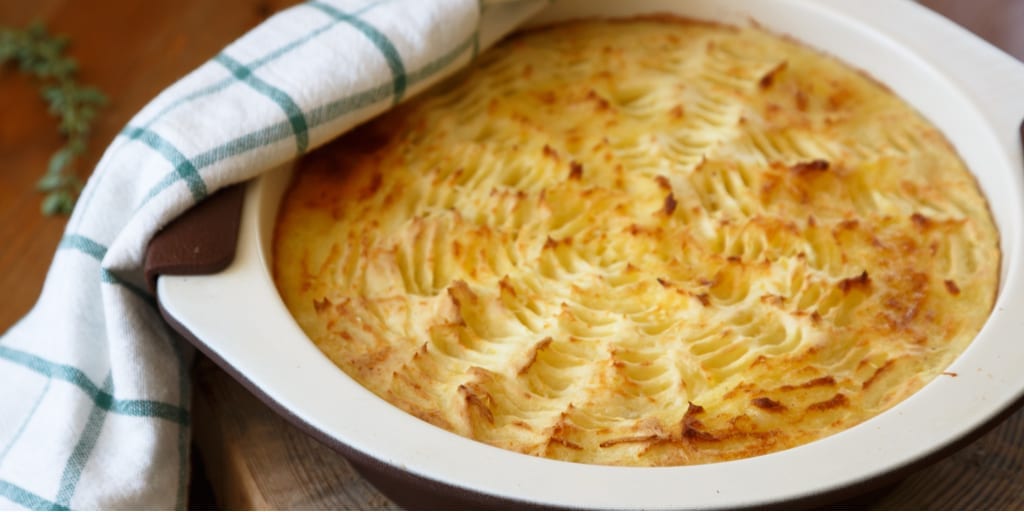 Prep Time20 mins
Cook Time15 mins
Total Time35 mins
Ingredients
½
cup
shredded smoked Gouda (about 2 ounces)
4
oz
British-style pork sausages (bangers), casings removed
Directions:
1
Preheat the oven to 425°F
2
Melt the butter in a 12-inch square or 14-inch round cast-iron pan over low heat.
3
Meanwhile, separate the eggs into two mixing bowls. To the yolks, add the cauliflower, almond flour, psyllium husk powder, salt, and pepper and mix until the ingredients are incorporated. Whisk the whites until frothy, then add the cream of tartar and continue to whisk until stiff peaks form, about 3 minutes. fold the cauliflower mixture, Gouda, and basil into the whipped whites; set aside.
4
Increase the heat under the cast-iron pan to medium, then add the diced zucchini, carrot, onion, and almonds and saute for 2 to 3 minutes, stirring constantly. Add the ground lamb and sausages and mix to combine with the vegetables. Press the mixture flat across the bottom of the pan; turn off the heat.
5
Pour the cauliflower/egg white mixture over the lamb mixture, then, using a spatula, press down until it is evenly distributed across the pan. Drizzle with the olive oil, then put the pan in the oven for 12 to 14 minutes, then drain.
6
Meanwhile, blanch the zucchini planks: Fill a 2 1/2-quart saucepan three quarters full of water and bring to a boil. Blanch the zucchini until tender, 2 to 3 minutes, then drain.
7
Remove the keto shepherd's pie the oven and serve hot over the blanched zucchini planks, garnished with fresh basil, if desired. Store leftovers in an airtight container in the refrigerator for up to 4 fays.
Nutrition Facts
Servings 6
---
Amount Per Serving

% Daily Value *

Total Fat 43.5g

67

%

Total Carbohydrate 8.5g

3

%

Dietary Fiber 3.8g

16

%

Protein 23g

46

%
---
* Percent Daily Values are based on a 2,000 calorie diet. Your daily value may be higher or lower depending on your calorie needs.