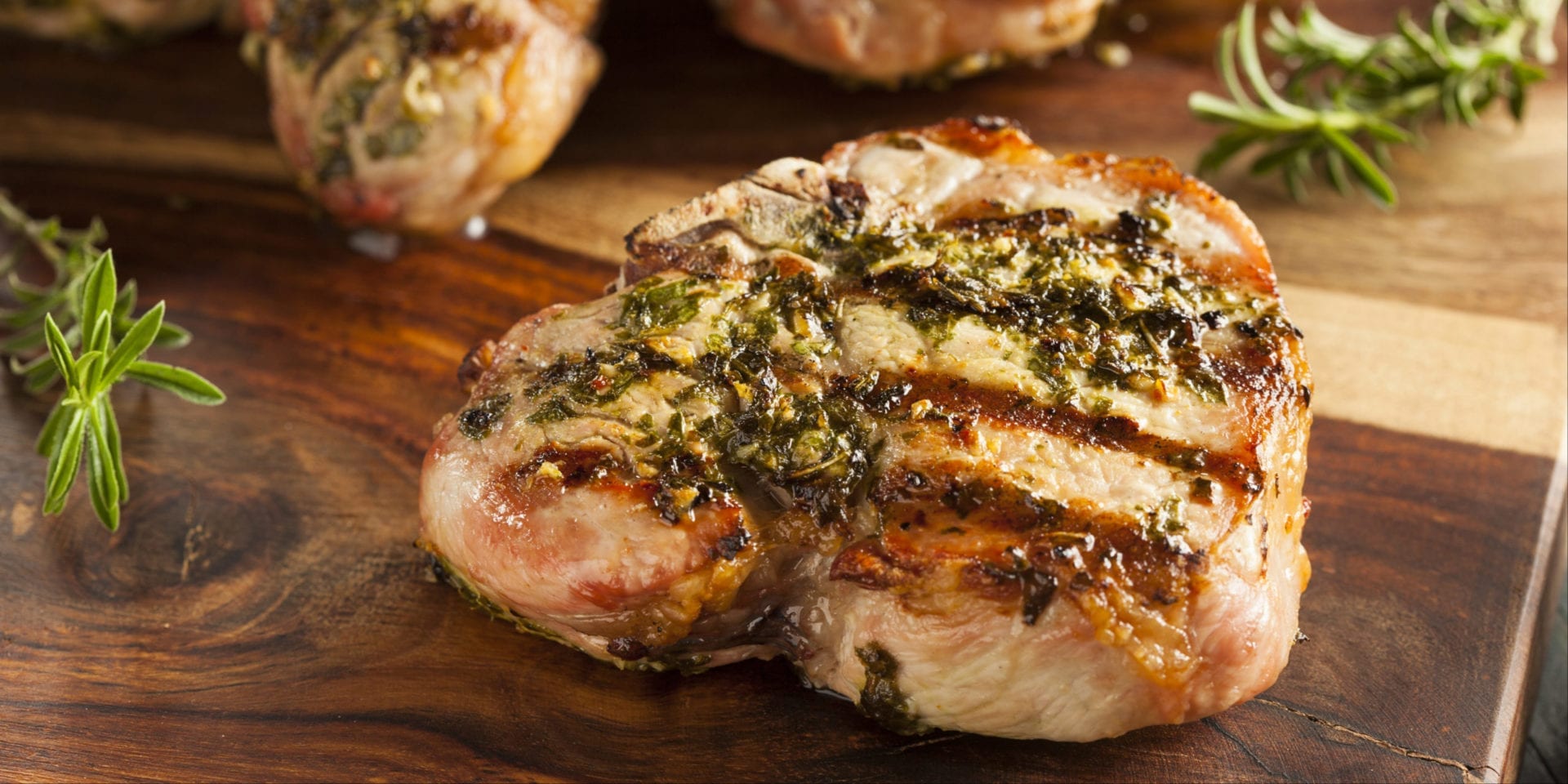 Lemon, butter, and thyme are three flavors that melt together and compliment one another extremely well. Combining these seasonings with pork chops is a simple way to make an easy, low-carb, high-protein, keto dinner.
Enjoy this low carb delicious pork chop recipe for lunch, dinner, or as a quick and easy keto meal prep! Add a side of cauliflower rice, zucchini noodles, or any other keto side dish for a well-rounded, filling keto meal!
Prep Time5 mins
Cook Time15 mins
Total Time20 mins
Directions
1
To start seasoning the keto pork chops, combine all of the seasonings (except for lemon juice, butter, and minced garlic) in a bowl.
2
Pat down the pork chop with a paper towel to ensure they are dry.
3
Rub the seasoning evenly across the pork chops.
4
Heat 2 tbsp of butter and minced garlic in a medium-to-large skillet over medium-high heat.
5
Once the butter is heated, but not brown, place the pork chops in the skillet.
6
Cook for approximately 5 minutes and then flip.
7
Continue cooking the keto pork chops for an additional 5 minutes or until the inside is no longer pink.
8
Reduce the heat to medium-low and add the remaining butter and lemon juice.
9
Using a spoon, spoon the melted butter and lemon juice mixture over the pork chops, while cooking.
10
Allow the pork chops to simmer in the butter for 3-5 minutes.
11
Enjoy this low carb delicious pork chop recipe just as it is, or garnished with fresh thyme and lemon slices.
Nutrition Facts
Serving Size 1
Servings 4
---
Amount Per Serving

% Daily Value *

Total Fat 15.5g

24

%

Total Carbohydrate 1g

1

%

Dietary Fiber 0g

Protein 23g

46

%
---
* Percent Daily Values are based on a 2,000 calorie diet. Your daily value may be higher or lower depending on your calorie needs.