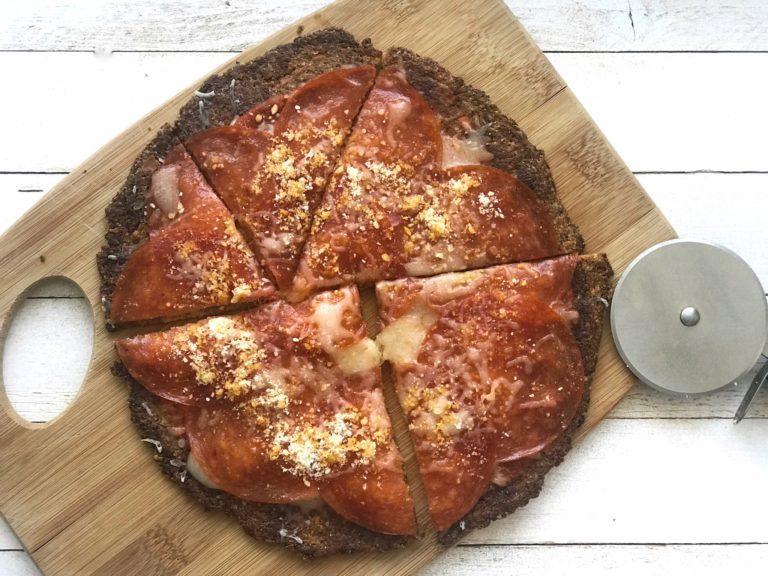 Cauliflower Pizza Crust
Servings: 5
Preparation time: 10 minutes
Total Time 30 minutes

Ingredients:
5 cups of cauliflower rice
¼ cup of almond flour
1 egg
Salt to taste
1 teaspoon of Italian seasoning
¼ cup of parmesan cheese

Preparation:
Preheat the oven to 375 F and line a baking sheet with parchment paper.
Bake the cauliflower rice for 10 minutes.
Remove the cauliflower into a strainer, let it cool for 2-3 minutes then squeeze the water out of it.
In a medium mixing bowl whisk egg, Italian seasoning, salt, and pepper. Add cheese, almond flour and cauliflower stir with a spatula until combined.
Line pizza sheet with parchment paper and spray with cooking spray. Transfer the dough into the middle and flatten with your hands until thin pizza crust forms.
Bake for 15 minutes and then broil for another 5 minutes.
Top with your favorite toppings and bake again until cheese on top turns golden brown.
Nutrition Facts:
Calories: 149
Fat: 7.4 g
Carbs: 12 g
Fiber: 5.1 g
Protein: 11.1 g