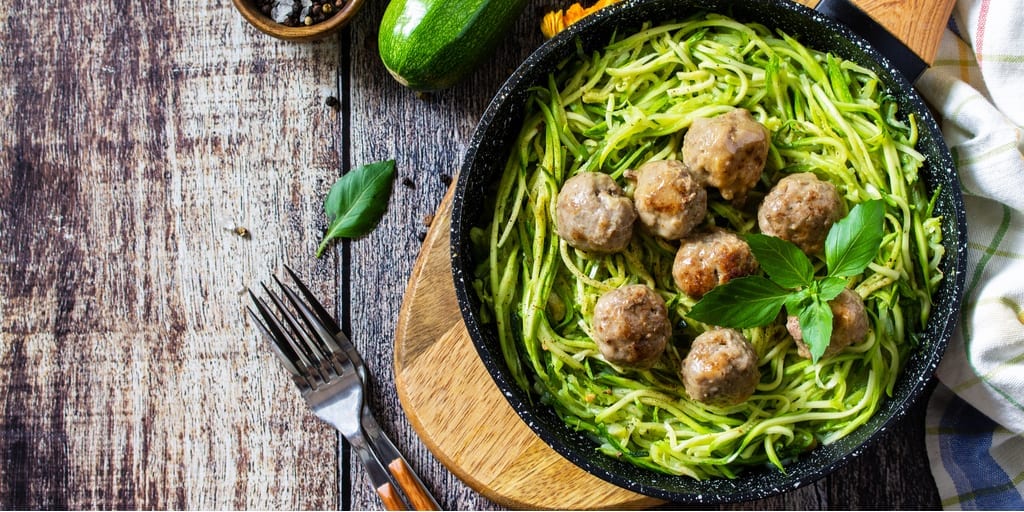 Prep Time20 mins
Cook Time20 mins
Total Time40 mins
Ingredients:
For the Meatballs:
8
oz
80/20 ground sirloin
For the "Spaghetti":
2
cups
yellow squash, spiral-sliced into noodles
For the Sauce:
Directions:
1
Preheat the oven to 300°F.
2
Make the meatballs: In a large bowl, mix together the ground sirloin, sausage, onion, garlic powder, and salt until well combined. Divide the mixture into twelve 1-ounce meatballs. In a large sauté pan over medium heat, heat 2 tablespoons of butter for 1 to 2 minutes. Add the meatballs and sear for 1 to 2 minutes on each side, then remove them to a sheet pan. Place in the oven to finish cooking, 4 to 7 minutes.
3
Make the keto "spaghetti": In the same sauté pan you used to cook the meatballs, heat 2 tablespoons of butter over medium heat. Add the zucchini and squash noodles, bell pepper, and tomato and sauté for 3 to 4 minutes. Reduce the heat to low and simmer until the noodles and bell pepper are tender, about 5 minutes. Season to taste with salt and pepper.
4
While the meatballs are cooking and the noodles are simmering, make the sauce: Place the half-and-half in a microwave-safe bowl and microwave for 1 to 2 minutes. Add the mashed avocado to the heated half-and-half and whisk until smooth. Season to taste with salt and pepper.
5
Divide the noodles and vegetables among 4 plates, then top each plate with 3 meatballs. Spoon the avocado sauce over the meatballs and garnish with Parmesan; serve your keto spaghetti immediately.
6
Store your leftover keto spaghetti in an airtight container in the refrigerator for up to 6 days.
Nutrition Facts
Servings 4
---
Amount Per Serving

% Daily Value *

Total Fat 32.7g

51

%

Total Carbohydrate 9.8g

4

%

Dietary Fiber 2.8g

12

%

Protein 23g

46

%
---
* Percent Daily Values are based on a 2,000 calorie diet. Your daily value may be higher or lower depending on your calorie needs.