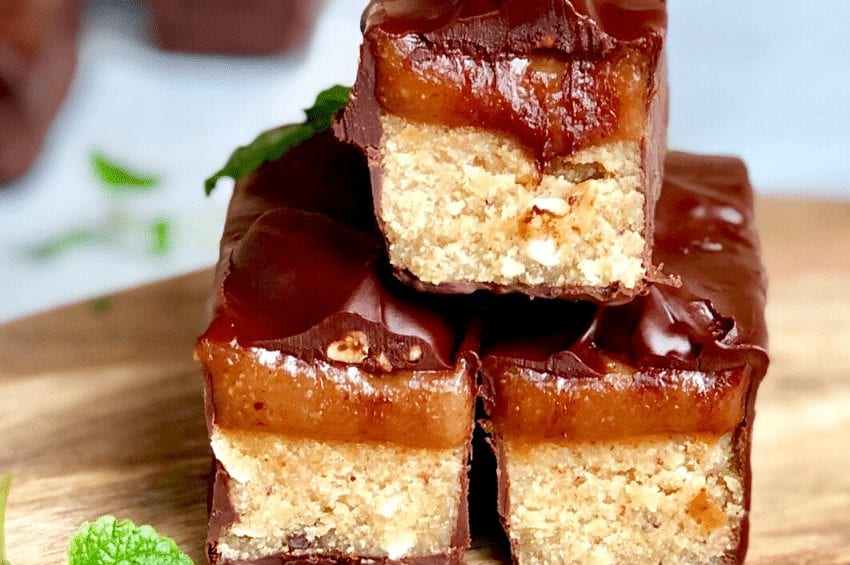 When you think about snickers bars, keto or low-carb is probably not something that comes to mind. It may seem impossible to make a caramel chocolate bar keto but, it has been done. Not only is this recipe for a keto snickers bar, @swedishketo took this recipe one step further and created a cookie dough keto snickers bar. Not only does it feature caramel, nuts, and chocolate (like a traditional snickers bar) but, it also has a cookie dough layer that makes this candy bar even better.
Prep Time15 mins
Cook Time10 mins
Total Time25 mins
Ingredients
Cookie Dough Layer
Caramel Layer
Topping
Directions
Cookie Dough Layer
1
Mix all ingredients for the dough layer in a bowl
2
Stir in the chocolate pieces and mix until well combined.
3
Line a bread pan with baking paper and spread the dough evenly in the bottom and put in the freezer while preparing the caramel.
Caramel Layer
4
Use a microwave-safe bowl and add almond butter, syrup, coconut oil and heat in the microwave until the coconut oil has melted.
5
Blend and add cream, butter, and erythritol and heat again until melted.
6
Blend everything until well combined.
7
Pour the caramel on top of the cookie dough layer and put in the fridge until it's hard.
Bars
8
Remove the dough layers from the pan and spread the melted chocolate on top.
Note: It will harden up fast since the dough is frozen, so act quickly.
10
Press the pecans onto the top of the caramel layer and dip into the melted chocolate.
11
Serve your delicious cookie dough keto snickers bars cool so that the chocolate doesn't melt and store in the fridge.
Nutrition Facts
Serving Size 1 bar
Servings 8
---
Amount Per Serving

% Daily Value *

Total Fat 33g

51

%

Total Carbohydrate 3g

1

%

Protein 10g

20

%
---
* Percent Daily Values are based on a 2,000 calorie diet. Your daily value may be higher or lower depending on your calorie needs.