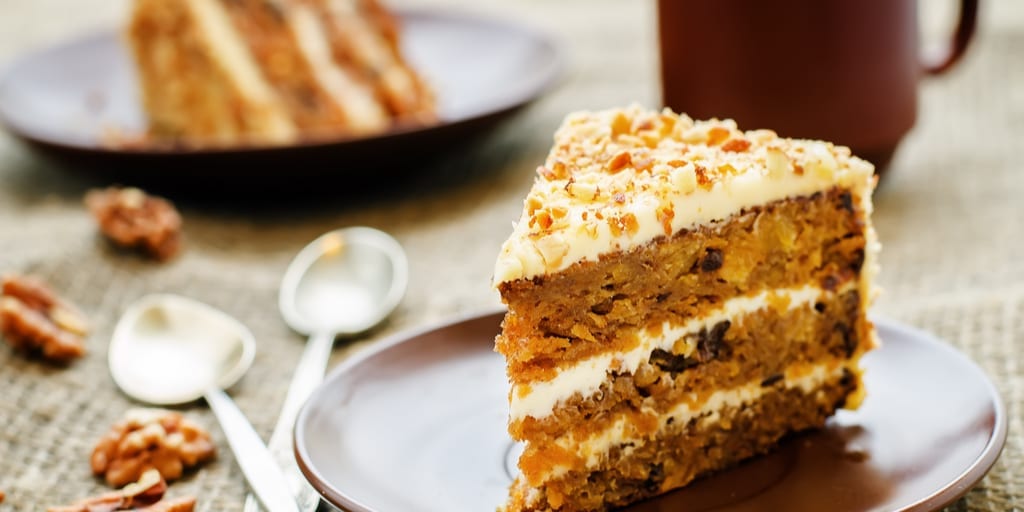 Carrots aren't normally keto, but this keto carrot cake recipe uses only 1 carrot to add flavor, but it's small enough that it doesn't increase the carb count drastically enough to kick you out of ketosis. If you are opposed to adding the carbs from carrots or are following a really strict ketogenic diet, you can omit the carrot from the recipe for a tasty cinnamon & salted caramel cake.
Prep Time30 mins
Cook Time15 mins
Total Time45 mins
Ingredients
For the Cake:
For the Frosting:
For Garnish:
Directions:
1
Preheat the oven to 325°F and coat three 9-inch round cake pans with cooking spray.
2
To make the cake, sift together the almond flour, coconut flour, protein powder, flax seeds, baking powder, 1/4 teaspoon of the xanthan gum, spices, and salt; set aside.
3
Separate the eggs into two large bowls . To the bowl with the yolks, add the butter, coconut oil, heavy cream, vanilla extract, Splenda Brown Sugar Blend, and sucralose, if using. Using a hand mixer fitted with the paddle attachment, blend until the mixture is fully combined.
4
Whisk the egg whites until frothy, then add the remaining 1/4 teaspoon of xanthan gum. Using a hand mixer fitted with the whisk attachment, whip until stiff peaks form, 2 to 3 minutes.
5
Fold the dry ingredients into the egg yolk mixture until homogenous, then gently fold the mixture into the egg whites. Fold in the almond milk, shredded carrot, and pecans, then portion the batter equally among the prepared pans. Bake for 11 to 15 minutes, until the sides of the cakes start to brown and pull away from the pans.
6
While the keto carrot cake is baking, make the frosting: Using a hand mixer fitted with the paddle attachment, blend together the cream cheese, protein powder, butter, cinnamon, and salt until smooth; set aside.
7
Remove the cakes from the pans and place on a cooling rack for 10 to 15 minutes, until cool and firm.
8
To assemble the keto carrot cake, place one cake on a plate and spread a thin layer of frosting on top. Repeat with the second cake on top of the first. Place the third cake as the final layer and evenly cover the top and sides of the cake with the remaining frosting.
9
Once the keto carrot cake is frosted, cut into 8 equal slices and plate with whole pecans and shredded carrot. Store in an airtight container in the refrigerator for up to 1 week.
Nutrition Facts
Serving Size 1 slice
Servings 8
---
Amount Per Serving

% Daily Value *

Total Fat 40.1g

62

%

Total Carbohydrate 7.6g

3

%

Dietary Fiber 3.9g

16

%

Protein 14.2g

29

%
---
* Percent Daily Values are based on a 2,000 calorie diet. Your daily value may be higher or lower depending on your calorie needs.