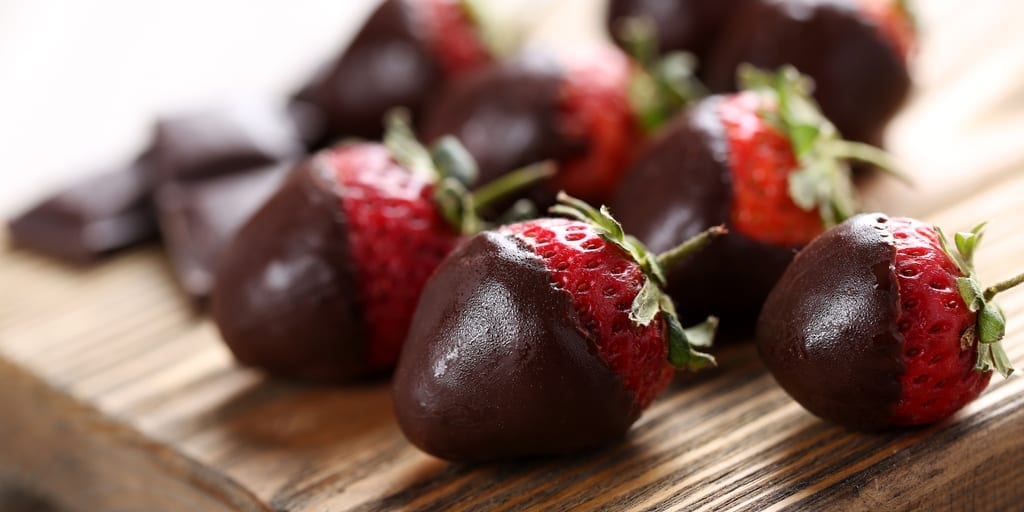 Who doesn't love a quick and easy, healthy dessert? This keto chocolate covered strawberries recipe is the perfect combination of chocolate and strawberry flavor, without all of the added sugar or carbs in traditional desserts.
The best part is that this keto dessert can be dressed up or dressed down for the occasion! Make these quickly as a midnight snack or with a little extra time, spice them up and decorate by drizzling on white chocolate, or dusting with sugar-free sprinkles, coconut flakes, or unsweetened cocoa powder. They are perfect for Valentine's Day, birthdays, date night or any other holiday or event!
Prep Time5 mins
Cook Time20 mins
Total Time25 mins
Directions
1
To begin making these quick and easy, sugar-free chocolate-covered strawberries, clean and wash the 15 strawberries.
2
In a microwavable-safe bowl, combine the chocolate chips and coconut oil and microwave in 30-second intervals, until melted.
Note: make sure to stir well in between microwaving sessions or else the chocolate can burn.
3
While the chocolate is still warm and melted, dip the strawberries in the chocolate.
Note: If you'd like to add additional toppings (shredded coconut, unsweetened cocoa powder, etc) do so now.
4
Place the keto chocolate covered strawberries on a non-stick pan or sheet of parchment paper to cool.
5
Place the sheet of strawberries either in the fridge or freezer for 20-30 minutes or until the chocolate has hardened.
6
Enjoy this easy, low-carb dessert of keto chocolate covered strawberries as a daily treat or as a celebration for a special event like Valentine's Day, birthday's, etc.
Nutrition Facts
Serving Size 5 strawberries
Servings 3
---
Amount Per Serving

% Daily Value *

Total Fat 16.7g

26

%

Total Carbohydrate 20.6g

7

%

Dietary Fiber 14.3g

58

%

Protein 3.1g

7

%
---
* Percent Daily Values are based on a 2,000 calorie diet. Your daily value may be higher or lower depending on your calorie needs.