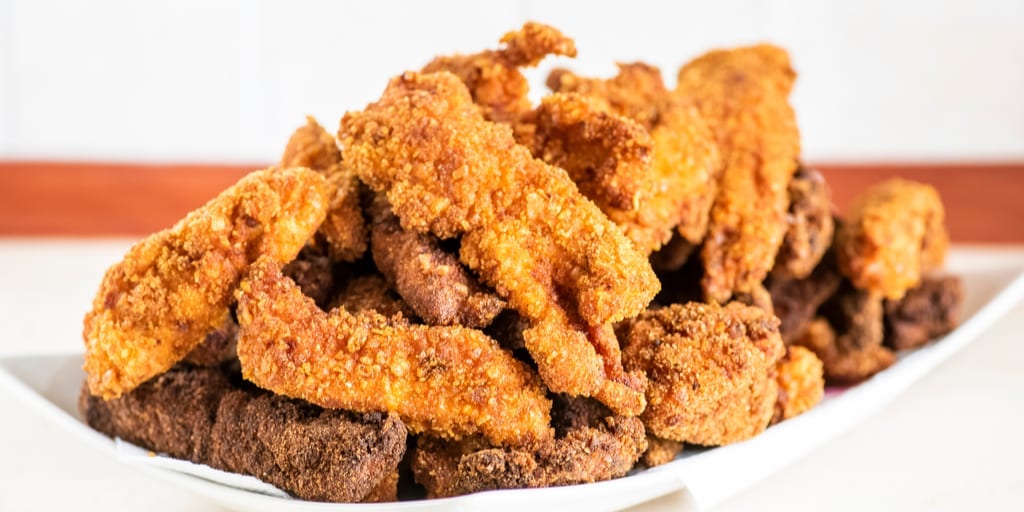 Fried chicken is a staple of southern cuisine! It's fried, juicy deliciousness is the main course of meals throughout the year, but especially during the summer. Since most fried chicken is breaded in flour, it is definitely not ketogenic-friendly. This keto fried chicken recipe, however, is the perfect alternative! It uses almond flour instead of traditional flour to cut out the carbs without cutting out the flavor.
To make a spicy version of this keto fried chicken recipe, try adding cayenne pepper and red pepper flakes to your breading mixture so an extra kick!
Prep Time10 mins
Cook Time20 mins
Total Time30 mins
Nutrition Facts
Serving Size 2 pieces
Servings 4
---
Amount Per Serving

% Daily Value *

Total Fat 27.3g

42

%

Total Carbohydrate 4.1g

2

%

Dietary Fiber 2g

8

%

Protein 24g

48

%
---
* Percent Daily Values are based on a 2,000 calorie diet. Your daily value may be higher or lower depending on your calorie needs.
Directions
1
Heat a skillet over medium-high heat with enough oil to cover 1-2 inches.
2
Prep the chicken thighs by patting them dry with a paper towel and cutting each length-wise into two pieces.
3
In a bowl, whisk the eggs and heavy cream together.
Note: try to make sure the eggs are room temperature.
4
In a separate bowl, mix the almond flour and seasonings.
5
Coat each chicken piece in the breading and seasoning mixture, then in the egg wash, and then in the breading mixture again.
6
Place the breaded chicken on a baking sheet or plate and repeat until all of the chicken pieces are breaded.
7
Once the oil has heated, carefully add a few pieces of chicken to the skillet, making sure they do not overlap (this may take a few times).
Note: to make sure the oil is hot enough, you can sprinkle a bit of almond flour into the oil. If it sizzles, it's ready. If not, wait a few minutes and try again.
8
Cook for approximately 5 minutes or until the bottom side is golden brown and then flip and cook for an additional 5-6 minutes or until golden brown and the inside is no longer pink.
Note: Based on the thickness of the chicken thighs you select, this may take more or less time.
9
Once the keto fried chicken has been cooked all the way through, place it on a paper towel or wire rack to cool and repeat until all of the chicken has been cooked.
10
Enjoy and serve your keto fried chicken!