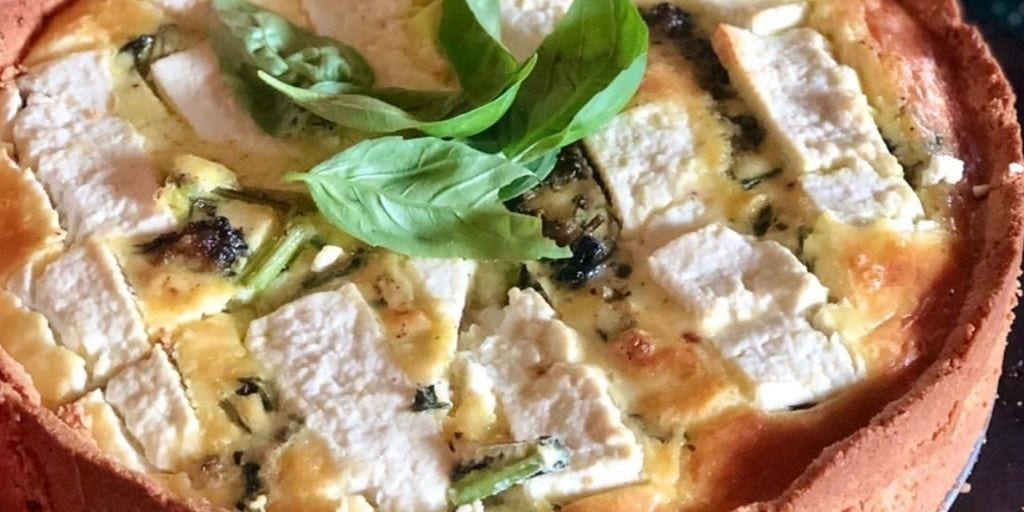 Eating your veggies doesn't have to be boring! Spice up your boring broccoli side dishes with this keto vegetable pie recipe! It's low-carb, tastes amazing, and is a great way to get in those micronutrients!
Prep Time15 mins
Cook Time40 mins
Total Time55 mins
Ingredients
Crust
Filling
100
g
shredded cheese
(parmesan or priest used)
Optional: Spinach or other leafy greens.
( I used lambsquarters from the garden.)
Optional: goat cheese for garnish
Directions
1
Preheat the oven to 350°F
2
To make the keto vegetable pie crust, combine all of the crust ingredients in a medium bowl and combine until a dough-like texture is achieved.
3
Place the dough into a round springform pan and press into the bottom and sides to create a pie crust shake.
5
While the pie crust is cooking, chop the broccoli and garlic into small pieces.
6
Heat a pan with olive oil over medium-high heat.
7
Add your broccoli and optional leafy greens and cook until soft.
8
Add your fried greens mixture to the pie crust.
9
In a medium bowl, mix together the cream cheese, eggs, shredded cheese, and seasonings.
10
Pour this mixture over the fried greens mixture.
11
Optional: top your keto vegetable pie with slices of goat cheese.
12
Bake for 40 minutes or until the filling is firm and not runny.
13
Serve your keto vegetable pie and enjoy!
Nutrition Facts
Serving Size 1 slice
Servings 8
---
Amount Per Serving

% Daily Value *

Total Fat 52g

80

%

Total Carbohydrate 4.8g

2

%

Protein 22g

44

%
---
* Percent Daily Values are based on a 2,000 calorie diet. Your daily value may be higher or lower depending on your calorie needs.