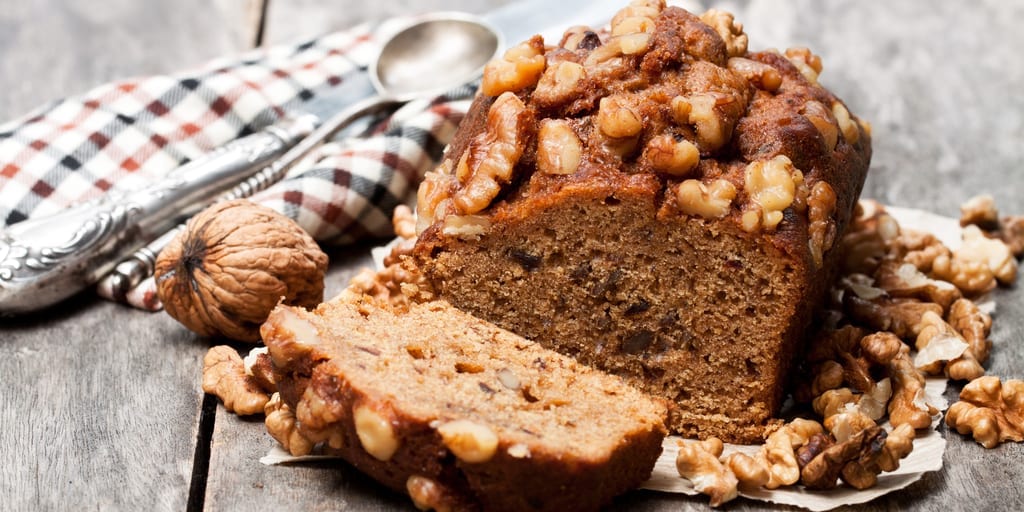 Tired of boring eggs for breakfast? Spice up your keto breakfast game with this keto walnut bread with maple butter! It is sweet and tasty and reminiscent of banana walnut bread (without all of the carb)!
Prep Time15 mins
Cook Time40 mins
Total Time55 mins
Ingredients
For the Bread
For the Maple Butter
Directions
1
Preheat the oven to 325°F and coat a 9 by 5-inch loaf pan with cooking spray or oil.
2
Sift the almond flour, coconut flour, hazelnut flour, protein powder, psyllium husk powder, baking soda, baking powder, spices, and ¼ teaspoon of the xanthan gum into a mixing bowl; set aside.
3
Separate the eggs into 2 large bowls. Add the butter and coconut oil to the bowl with the yolks and, using a whisk, mix until the ingredients are smooth and emulsified (with no separation). Add the heavy cream, vanilla extract, Splenda baking blend, and sucralose, and mix until combined; set aside.
4
Whisk the egg whites until frothy. Add the remaining ¼ teaspoon of xanthan gum and whip until stiff peaks form, about 3 minutes.
5
Fold the egg yolk mixture into the egg whites until combined, then add the dry ingredients, walnuts, and shredded zucchini and mix until a thick batter forms.
6
Transfer the batter to the prepared pan, cover with aluminum foil, and bake for 40 minutes, rotating the pan halfway through.
7
While the bread is baking, make the maple butter: Whisk together the butter, maple extract, cinnamon, salt, and sucralose until the mixture is smooth and spreadable.
8
Remove the bread from the oven and turn out onto a cooling rack. When the bread is cool, slice it into 6 equal portions. Serve warm or cool with 1 to 2 tablespoons of the maple butter. Store in an airtight container in the refrigerator for up to 1 week.
Nutrition Facts
Servings 6
---
Amount Per Serving

% Daily Value *

Total Fat 32.6g

51

%

Total Carbohydrate 7.2g

3

%

Dietary Fiber 5.1g

21

%

Protein 11.1g

23

%
---
* Percent Daily Values are based on a 2,000 calorie diet. Your daily value may be higher or lower depending on your calorie needs.