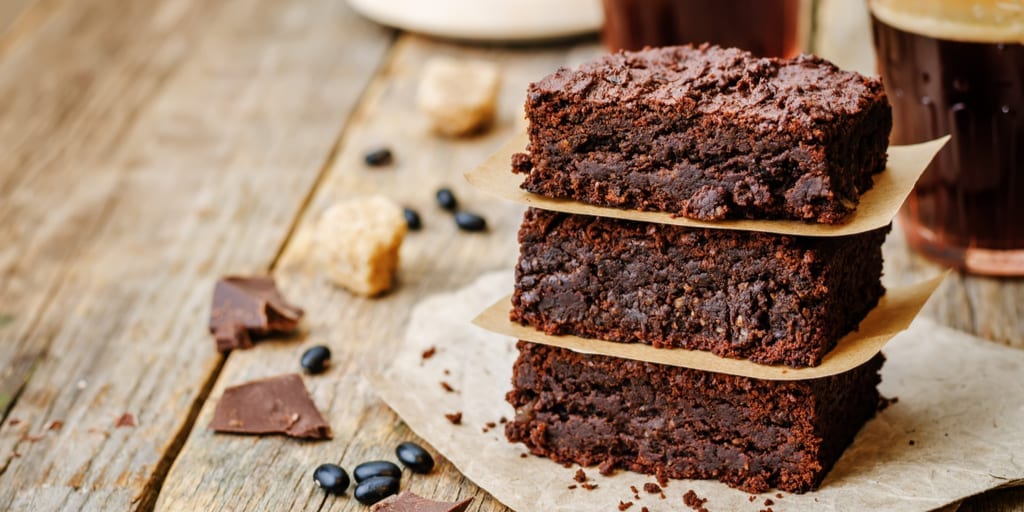 These flourless, sugarless black bean brownies are not only rich in chocolatey brownie flavor, but the added coffee gives them an extra kick! The coffee flavor perfectly complements the dark chocolate flavor and adds to the richness of this low-carb black bean brownie. These low-carb protein brownies have the texture and moisture level similar to traditional, flour & sugar brownies.
The added protein powder increases the protein content and adds to the chocolate flavor as well. If you opt to not add protein powder, make sure to reduce the amount of unsweetened almond milk added to your black bean brownie mixture so that the batter is not too liquidy. If you'd like to increase the fat content, you can replace the unsweetened almond milk with melted butter or coconut oil.
Prep Time10 mins
Cook Time30 mins
Total Time40 mins
Directions
1
Preheat the oven to 350 degrees F and grease a brownie pan.
2
Rinse and drain the black beans.
3
Puree the black beans with a food processor, blender, or hand mixer until smooth.
4
Add all of the wet ingredients to the black bean paste and mix until well combined.
5
In a separate bowl, combine the cocoa powder, erythritol, baking powder, and coffee.
6
Slowly mix the dry ingredient mixture into the wet ingredients.
Note: If using a hand mixture, slowly pour the ingredients in or else the cocoa powder will get everywhere.
7
Once the batter is well combined, stir in the chocolate chips.
8
Pour the batter into the greased pan and bake for 28-35 minutes or until soft, but no longer jiggly.
Note: For a cakier black bean brownie, cook slightly longer. For a fudgier brownie, Cook for 25-28 minutes.
9
Enjoy your dark chocolate coffee protein black bean brownies alone or with a scoop of low-carb vanilla ice cream!
Nutrition Facts
Serving Size 1 brownie
Servings 12
---
Amount Per Serving

% Daily Value *

Total Fat 5g

8

%

Total Carbohydrate 12g

4

%

Dietary Fiber 7g

29

%

Protein 6g

12

%
---
* Percent Daily Values are based on a 2,000 calorie diet. Your daily value may be higher or lower depending on your calorie needs.