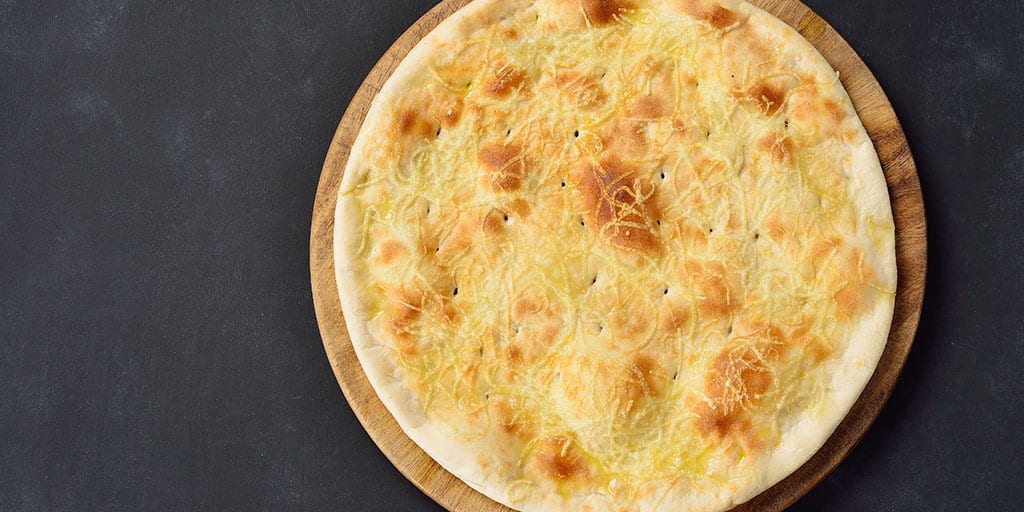 Think you can't have pizza on keto? Think again. This Keto Pizza Crust has healthy fats to help you maintain ketosis while having a delicious meal.
Prep Time10 mins
Cook Time10 mins
Total Time20 mins
1
Preheat the oven to 425 degrees Fahrenheit.
2
Line a baking sheet with parchment paper.
3
Combine the shredded mozzarella and cubed cream cheese in a large microwave-safe bowl.
4
Microwave the mix for 90 seconds, stirring halfway through.
5
Stir again at the end until well incorporated.
6
Stir in the beaten eggs and coconut flour.
7
Knead with your hands until a dough forms.
8
Spread the dough onto the lined baking pan to 1/4" or 1/3" thickness.
9
Use a fork to poke lots of holes throughout the crust to prevent bubbling.
10
Bake for 6 minutes. Poke more holes in any places where you see bubbles forming. Bake for 3-7 more minutes, until golden brown.
Nutrition Facts
Serving Size 1 slice
Servings 8
---
Amount Per Serving

% Daily Value *

Total Fat 7.6g

12

%

Total Carbohydrate 3.7g

2

%

Protein 7.7g

16

%
---
* Percent Daily Values are based on a 2,000 calorie diet. Your daily value may be higher or lower depending on your calorie needs.