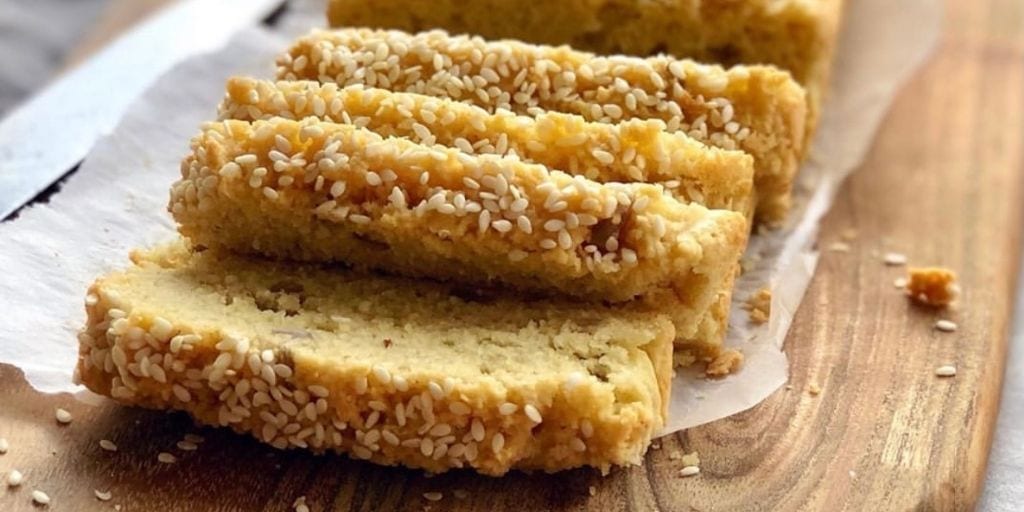 One of the hardest parts about going keto is having to give up bread. Not only is bread delicious, but it's the backbone of so many other foods. That means no more grilled cheese sandwiches, PB&J's, or avocado toast! But, have no fear, you don't have to give up bread completely! This easy keto bread recipe is the ultimate low-carb alternative to your favorite carb-filled bread!
Ingredients
a handful of sesame seeds
Directions
1
Preheat the oven to 300°F.
2
In a bowl, combine all of the dry ingredients.
3
In a separate bowl, mix the eggs with a hand mixer until fluffy (around 10-12 minutes).
Note: this is a really important step because it helps determine how soft & moist the bread will be.
4
Fold the fluffy eggs into the dry ingredient mixture gently (trying to keep as much air in as possible).
5
Pour keto bread mixture into a bread pan.
6
Top your easy keto bread mixture with sesame seeds.
7
Bake for 35 minutes or until fully cooked.
8
Allow your easy keto bread to cool before cutting and serving.
Nutrition Facts
Serving Size 1 slice
Servings 12
---
Amount Per Serving

% Daily Value *

Total Fat 14g

22

%

Total Carbohydrate 1g

1

%

Protein 7g

15

%
---
* Percent Daily Values are based on a 2,000 calorie diet. Your daily value may be higher or lower depending on your calorie needs.