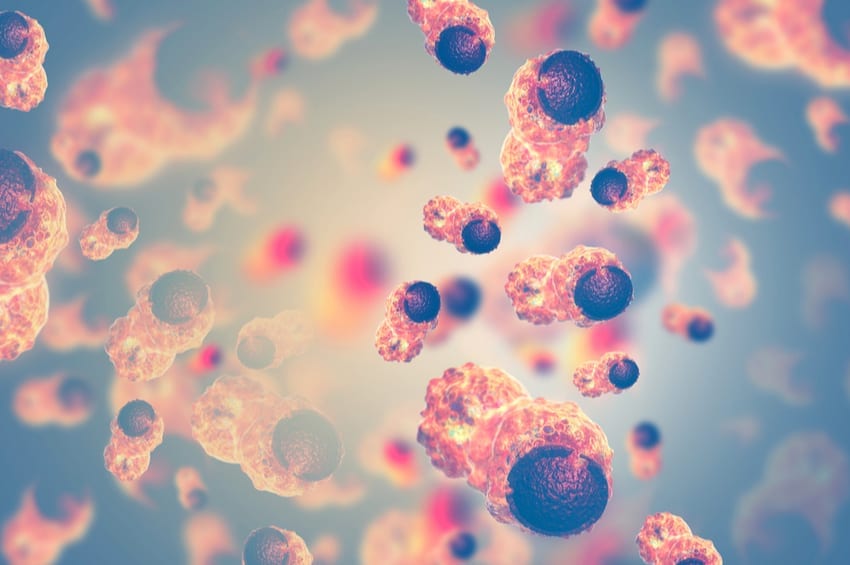 Fasting has been used as a treatment for the disease since 500 B.C., yet we still don't fully understand the true extent of its benefits. Fasting and the ketogenic diet tend to go hand-in-hand because both cause the body to rely on fatty acids for energy and produce ketone bodies through a process known as ketogenesis. Only recently have scientists begun to look at the possibility of a ketogenic diet as nutritional therapy for cancer.
So, why would the ketogenic diet be beneficial for cancer patients? Well, there are several reasons that boiled down to a few basic points. First off, cancer cells thrive on glucose and produce lactate (this is known as the Warburg effect). In fact, one of the key tests for cancer is known as an FDG-PET scan. This type of test looks at how cells take in and metabolize glucose. The ketogenic diet is a low-carbohydrate diet, meaning cells will be deprived of glucose and thus cancerous cells will have a limited fuel supply.
Other reasons why keto may help fight cancer has to do with making cells more sensitive to chemotherapy and providing an alternative fuel source to the brain and other organs (via ketones). Some research has even looked into the possibility of keto helping to prevent cancer by causing epigenetic modifications that may reduce the risk of cancer growth and through reduced oxidative damage since ketone bodies act as antioxidants. For more information about keto for cancer, check out our articles here:
If you are interested in the more complex biochemical intricacies of cancer and how the ketogenic diet may be beneficial, check out our Keto Mastery program. This intensive, Nationally recognized course, has an entire section dedicated to complex research behind just how a ketogenic diet may be physiologically beneficial for cancer patients or those at risk for cancer.
New Research Looking at the Ketogenic Diet and Cancer
A research review was published earlier this month titled "Diet and Chemotherapy: The Effects of Fasting and Ketogenic Diet on Cancer Treatment". This review looked at four ketogenic diet and four intermittent fasting studies and compared their results to draw conclusions on its efficacy. The paper concluded with the following:
" All comparatives studies have demonstrated that even fasting then KD results in a reduction of collateral effects of adjuvant chemotherapy (due to reduction of drugs toxicity) and a better QoL than in patients that follow no diet. "
This paper helps provide more evidence that our diet plays a key role in more than just our weight. Proper nutrition should be viewed as a potential therapy for many disease states, including cancer. While this is just one literature review that looks at 8 studies, more research still needs to be done to fully understand the extent of how beneficial the ketogenic diet may be for cancer.
Resources
Fine EJ, Segal-Isaacson CJ, Feinman RD, Herszkopf S, Romano MC, Tomuta N, Bontempo AF, Negassa A, Sparano JA. Targeting insulin inhibition as a metabolic therapy in advanced cancer: a pilot safety and feasibility dietary trial in 10 patients. Nutrition. 2012 Oct;28(10):1028-35. doi: 10.1016/j.nut.2012.05.001. Epub 2012 Jul 26. PMID: 22840388.
Diet and Cancer. World Cancer Research Fund. 2018. Available from: https://www.wcrf.org/dietandcancer.
Plot F, Terranova C, Luvero D, Bartolone M, et al. Diet and Chemotherapy: The Effects of Fasting and the Ketogenic Diet on Cancer Treatment. Karger. 2020.
Stepien M, Chajes V, Romieu I. The role of diet in cancer: the epidemiologic link. Salud Publica Mex. 2016;58(2):261–73.
Wei M, Brandhorst S, Shelehchi M, Mirzaei H, Cheng CW, Budniak J, et al. Fasting-mimicking diet and markers/risk factors for aging, diabetes, cancer, and cardiovascular disease. Sci Transl Med. 2017;9(377):eaai8700.
Chelsea Malone works as a researcher in the field of health and performance supplementation. She contributes science-based articles and information to Ketogenic.com. She received her Bachelor of Science in Biomedical Sciences from the University of Central Florida and her Master of Science in Medical Sciences from the University of South Florida. Her specialties are in biochemistry, immunology, and pathophysiology. In her free time, she enjoys cooking, traveling, hiking, and reading.